Rosario vampire has 26 episodes and shows a fascinating storyline from the start. The viewer can enjoy a perfect blend of multiple genres. It is a supernatural anime with comedy, adventure, and romance elements.
The story follows our main character Tsukune Aono who discovers that the school he is attending, Yokai Academy, is actually filled with students who are monsters.
The plot consists of his efforts to not appear human, which would lead to him being killed as the Academy forbids humans on campus.
The plot further thickens and becomes more exciting when he becomes friends with some of the monsters and goes on wild adventures and exploits.
The anime given below will be around the same genre as the Rosario vampire, meaning they will have a supernatural element and are Harem.
(NOTE: This list does not intend to create a hierarchal order)
List Of Anime Similar To Rosario Vampire
Omamori Himari
Episodes: 12
Status: Finished airing
Genres: Supernatural, romance, Harem
Where to watch: Crunchyroll, Funimation
The story deals with a boy named Yuto Amakawa.
He has lived alone since the death of his parents and is taken care of by his best friend, Rinko Kuzaki and her parents. The only problem in his life up until his 16th birthday is his cat allergies.
But as he turns 16, he is met with a cat-woman called Himari, who saves his life when a supernatural creature or ayakashi attacks him.
The boy's life is turned upside down as his family secrets are revealed, namely the one where Himari tells him he comes from a long line of Demon slayers.
With the show's progression, we see him battling many ayakashis and fighting for harmony between the demons and humans.
Similarities between Rosario vampire and Omamori Himari:
The Harem genre is very obvious in the series because Yuto is surrounded by women characters who seem to love him.
Vampire Knight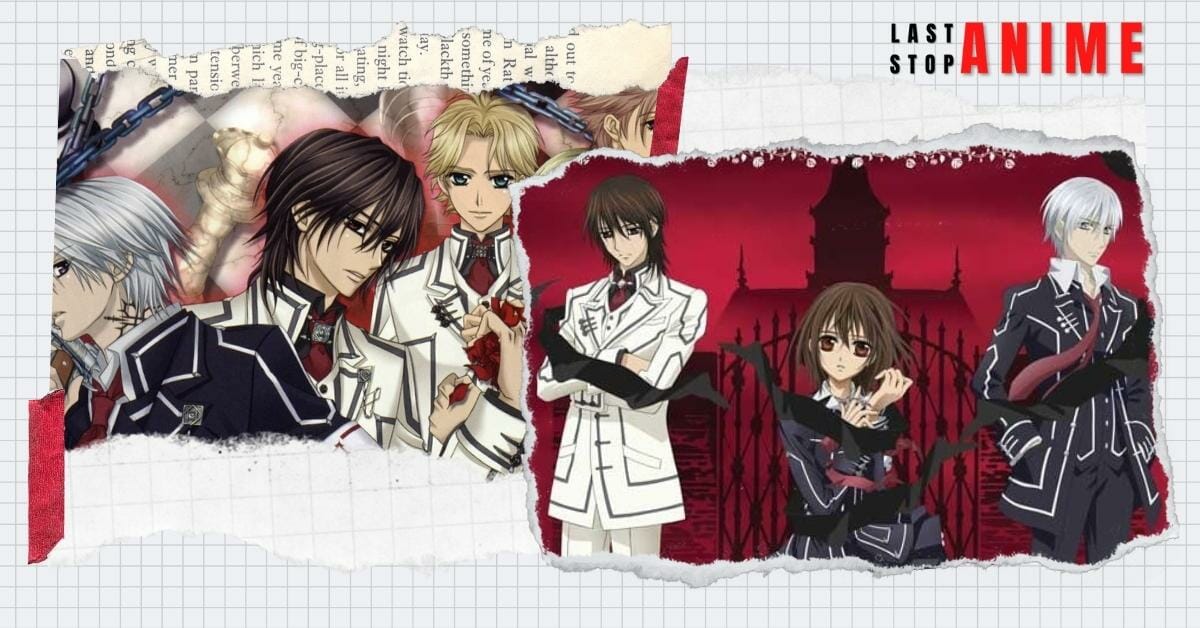 Episodes: 13
Status: Finished Airing
Genres: Mystery, Drama, Supernatural, Romance
Where to watch: Crunchyroll, Netflix
The tone of this anime is a bit serious compared to Rosario vampire. It is the story of Yuuki Cross, a member of Cross academy's disciplinary committee.
Along with her is her childhood friend, Zero Kiryuu. Both strive to maintain peace between the Day Class and the Night Class, the two main classes at Cross Academy.
One secret that the rest of the students of Day Class are entirely unaware of is that the Night Class consists of vampires.
This is because Zero Kiryuu houses great hatred for them as they destroy everything he loves.
Meanwhile, Kaname Kuran, who leads the vampires, once saved the life of Yuuki.Because of their arrangement in the academy, they see each other often, leading to complicated feelings towards Kaname.
But as the story progresses, we get to know there is something beyond the peaceful exterior of the vampires, and secrets are soon left out.
Why is the anime similar to Rosario vampire?
Most of the plot takes place at school.
Supernatural beings, particularly vampires are prevalent.
Freezing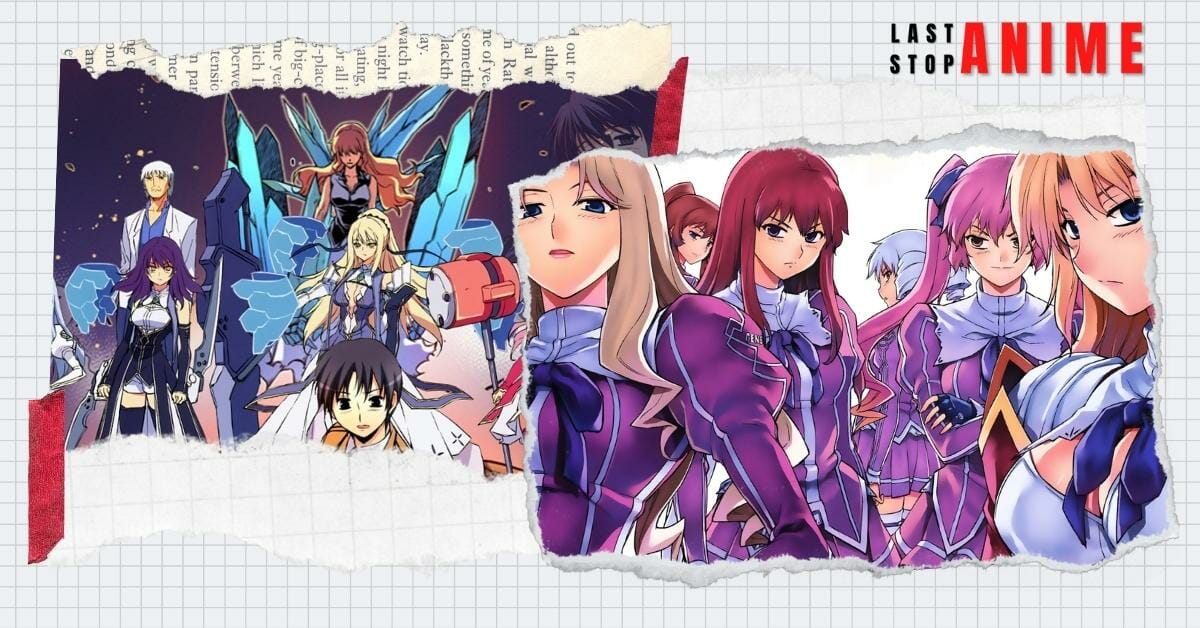 Episodes: 12
Status: Finished airing
Genres: Sci-fi, Action, Drama, Romance
Where to watch: Crunchyroll
This show is set in a futuristic world where the world is being attacked by aliens dubbed the Nova.
The show follows the male protagonist Kazuya Aoi entering West Genetics academy, a military school.
He trains alongside the Pandoras, who are girls but genetically modified.
The male counterparts of Pandoras are the Limiters, who use their techniques to limit their opponent's ability to fight. Here is where the title's meaning makes sense, as this technique is called "Freezing".
This anime shows the relationship between Kazuya and the Satellizer L. Bridget and their efforts to get rid of the Nova.
Why is this anime like Rosario vampire?
This anime depicts a somewhat similar plot as the main characters are up against evil beings.
To Love ru
Episodes: 26
Status: Finished airing
Genre: Comedy, Romance, Sci-fi
Where to watch: HIDIVE
To Love Ru is an anime that depicts the male protagonist Rito Yuuki, who has been in love with Haruna Sairenji since junior high school.
He is having trouble professing his love to her. To make matters worse, while he is bathing, a naked girl lands on top of him one night.
He finds out that the girl, Lala Satalin Deviluke, is the crown princess of an alien world and empire and surprise! Surprise! She has run away from home.
The girl is also ready to marry Rito to avoid a political marriage. Then chaos in Rito's life ensues as the Harem genre kicks in, and girls are suddenly swooning all over him.
To Love Ru is considered one of the best Harem series, and people love it because it is a relaxing watch.
Why is To Love Ru like Rosario vampire?
This is a slapstick comedy.
The storyline keeps you hooked.
The cast is filled with some pretty unique characters.
Sekirei
Episodes: 12
Status: Finished airing
Genre: Supernatural, Comedy, Romance
Where to watch: Hulu
Minato Sahashi has had a bit of bad luck as he has failed his college entrance exam for the second time.
Due to this, he is thought of as a loser by people around him and other students.
His luck soon changes when Musubi, a supernatural woman, falls from the sky and right into his life. But here is the catch.
She is not just any supernatural woman. She is a unique being called a 'Sekirei', a humanoid extraterrestrial with extraordinary abilities.
The Sekirei can awaken latent powers if they kiss a human. Now, this part is predictable. Musubi kisses Minato and awakens a bond between both of them.
But Minato soon learns of the Sekirei Plan, which comprises 108 stunning girls.
Soon, all these hot girls are onto Minato Sahashi and make a bond with him. This leads to fierce competition between these women, and Minato is caught in a tight spot.
Why is this anime like Rosario vampire?
Both the anime have supernatural women fighting over a male lead.
The mood and tone of the anime are light and amusing.
The anime is Harem.
Monster Musume no Iru Nichijou
Episodes: 12
Status: Finished airing
Genre: Supernatural, Comedy, Romance, Fantasy
Where to watch: HIDIVE
The title translates to Monster Musume: Everyday life with Monster girls.
As the title predicts, the plot is about a boy, Kimihito Kurusu and his sudden chaotic life after monster girls come flooding into it.
This is a harem anime, so be prepared for many girls and very few men.
Kimihito's old life was very dull and quiet. But his new life is fantasy beings and beastly beauties.
These fantasy beings can co-exist on Earth with humans, but no sexual interaction is allowed.
The only way that is forbidden is through a marriage provision.
This becomes difficult when Kimihito is constantly surrounded by beautiful alien women.
Why is this anime like Rosario vampire?
This is a Harem anime.
There are supernatural creatures involved.
Karin (Chibi vampire)
Episodes: 24
Status: Finished airing
Genres: Comedy, Romance, Supernatural
Where to watch: Netflix, Binge, Hayu
This show is a light-hearted one with the central character being Karin Maaka, who is a vampire but one of a kind.
Unlike her supernatural family, she suffers from polycythemia, a rare condition that causes her to produce vast quantities of blood.
This makes her anemic and light-headed, leading to nosebleeds.
She can only get rid of the excess blood by giving or forcing it on other humans.
Because of the condition, they become light-headed and happier once their blood is in their system.
Her family tries to help her as much as possible so she can keep the secret, but what will happen when someone starts getting too suspicious? In this case, Kenta Usui has newly transferred to her school.
Why is Karin( Chibi Vampire) similar to Rosario vampire?
Most of the main events take place in school.
Both worlds contain supernatural beings and specifically vampires.
Ichiban Ushiro no Daimaou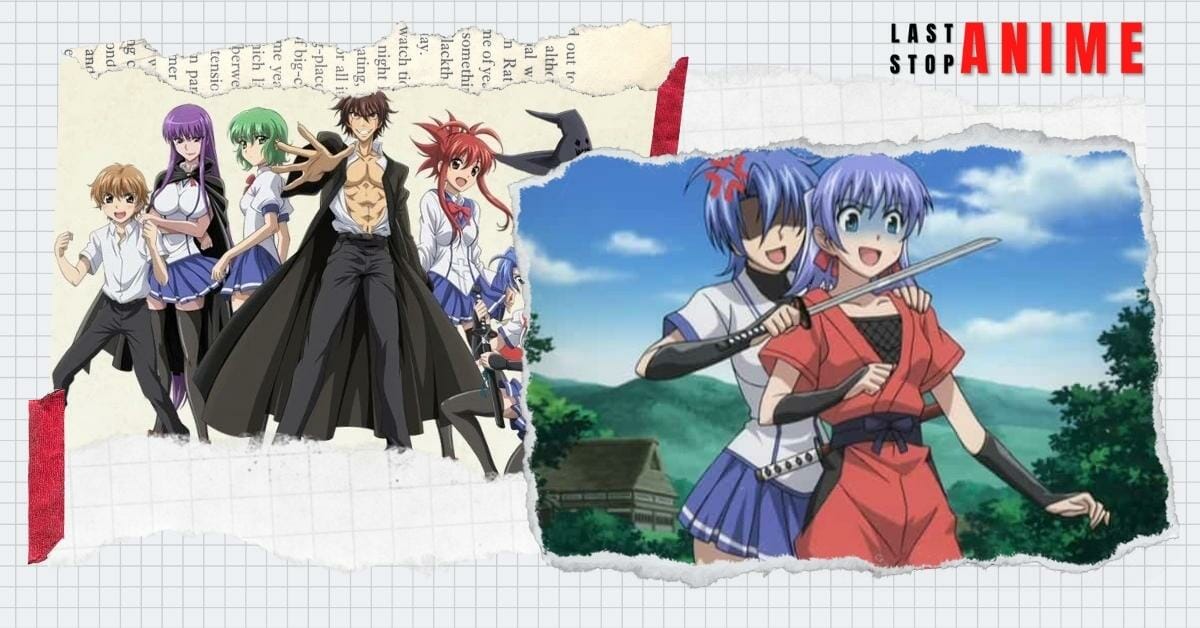 Episodes: 12
Status: Finished airing
Genres: Action, Comedy, Fantasy
Where to watch: Crunchyroll, HIDIVE
Akuto Sai has transferred to Constant magic academy. Here, he becomes friends with Junko Hattori, a ninja clan member, and both vow to change the world together.
But during a career assessment test, it is prophesized that he is to become the Demon king Daimao.
Soon, everyone in the school starts to act differently, and his relationship with Hattori worsens.
On top of that, he is suddenly surrounded by girls who have their own unique uses for him.
Fed up with this treatment and the fact that people look at him differently, he sets out to prove that his fate is not determined by some test.
Why is this anime like Rosario vampire?
Both have male characters in the lead role.
They are both fantasy animes.
The fate and plot of the male character is the central theme.
High School Dxd
Episodes: 12
Status: Finished airing
Genres: Comedy, Romance, Fantasy
Where to watch: Netflix, Funimation
High school Dxd is one of the incredibly popular animes because of its miraculous humor, incredible voice acting and art.
The plot is incredible, and the characters are well thought out.
The plot centers around Issei Hyoudou, a high school boy. His entire life centers around girls and dreaming of his own harem.
Things start picking up in the series when he bags a date with a beautiful girl.
But this girl is a fallen angel in disguise, and she kills him. But his luck is still intact because another beautiful senior student called Rias Gremory saves him.
She is a top-class devil and saves him by making him her servant. Issei is soon in with the school's Occult Research Club.
As he is living his high school life amidst angels and devils, he must adjust to it.
This also means a lot of hilarious escapades and keeping his new high school life a secret from his family and friends.
Why is this anime like Rosario vampire?
The main character is a male lead and is flanked by women.
The creatures shown in the series have superhuman strength.
The lead characters must keep secrets from people they consider close.
Heaven's lost property
Episodes: 13
Status: Finished airing
Genres: Fantasy, Romance, Comedy, Supernatural
Where to watch: Funimation
Tomoki Sakurai has had a recurring dream of an angel. It gets so bad that he wakes up in tears.
His best friend, Sohara Mitsuki, worries about him and asks the sky maniac Eishirou Sugata for help.
The sky maniac tells her that the dream talks about the connection with the New World.
Eishirou, along with some New World Discovery Club members, decided to meet up so they could observe the sky.
On that fateful day, Tomoki's normal everyday life is changed forever when a girl falls from the sky onto Earth and begins to call him master.
She turns out to be the angel, Ikaros.
Why is this anime like Rosario vampire?
This is a fantasy harem series.
The leading character is an ordinary high school boy, and the girls they are stuck with have supernatural abilities.
Kore Wa Zombie Desu ka?
Episodes: 12
Status: Finished airing
Genres: Supernatural, Action, Comedy
Where to watch: Crunchyroll, Funimation, Netflix
Ayumu Aikawa is a regular school-going boy who gets murdered by a serial killer while he is out investigating a suspicious house.
He wakes up with no pulse and sees a girl standing beside him.
She reveals herself as Eucliwood Hellschy, a necromancer who brought Ayumu back to life. But here is the catch. She turned him into a zombie.
Now Ayumu is immortal and is out for revenge. He begins his search for the killer.
While searching, he stumbles upon a cemetery. There, he comes upon a girl called Haruna. She is fighting a bear with a chainsaw.
After slaying the bear, this girl tries to erase the memories from Ayumu's head, but a strange thing happens. Ayumu absorbs all her powers for himself, thereby stripping hers.
Now that Ayumu has her power, Haruna tells him to take up her job of hunting beings called "Megalo".
These beings terrorize the world and humans, and now the responsibility falls on him.
What follows is the hilarity of the situation as Ayumu, who was just a school-going boy, suddenly turns to hunt creatures.
Similarities between this anime and Rosario vampire:
Both anime contain supernatural beings.
Other Anime Similar To Rosario Vampire:
Soul Eater
Arifureta
Fortune Arterial
Aesthetica of a Rogue Hero