Deca dence anime is set up in the distant future, the 25th century. It is a Sci-fi action anime series.
It is set up in a post-apocalyptic future. In this anime, the human race is on the verge of extinction due to air pollution rising to a lethal level and ruining the earth.
Still, their extinction is not only because of air pollution but also due to the rising of mysterious monsters called Gadol, who come from the outside world.
Gadol's attack was responsible for most of the destruction on earth and humanity.
Deca dence is an underground village also home to remaining humans from escaping the Gadoll attack.
The inhabitants in deca dence are formed into two groups. First is gears, who fight with monsters like Gadol, and following are Tankers, who lack fighting skills.
This sci-fi anime revolves around a mysterious girl named Natsume, a Tanker, and an arbor repairman, Kaburagi, who also works undercover for Solid Quake company.
Now both main characters are quite the opposite, and faith brought them together to prevent humanity from extinction from Gadoll. Will they succeed?
Now, if you have already watched deca dance and are an anime enthusiast, we have hand-picked list of anime similar to deca dance you shouldn't miss.
So when we talk about listing down anime like Deca Dence, we mean that these anime will have a similar vibe in terms of the plot while being Sci-fi.
(NOTE: This list does not intend to create a hierarchal order)
11. Made in Abyss
Episodes: 25
Aired: Jul 7, 2017, to Sep 29, 2017
Genre: Adventure, Mystery, Drama, Fantasy, Sci-Fi.
Duration: 25min
Premiered: Summer 2017
Status: Finished Airing
Where To Watch: Hulu, Disney+
The only undiscovered area in the world is the underground system where Abyss is set.
Numerous brave adventurers have descended there over the years, but its depth is unknown.
Rico, an orphan with theft aspirations like her mom before her, lives in a city on the verge of The Abyss.
She comes upon a child who turns out to be a robot one day while exploring the murky depths, and this is when her legendary quest starts.
Similarities Between Made in Abyss and Deca Dence
These two shows introduce an exciting world for the viewer to invest in and similar main characters. If you liked Deca Dence, give a shot at this anime you will like it.
Similar to Deca-Dence, Made in the Abyss appeared cute and liked it would be a more joyful adventure series, but an early twist destroys that impression.
10. Tengen Toppa Gurren Lagann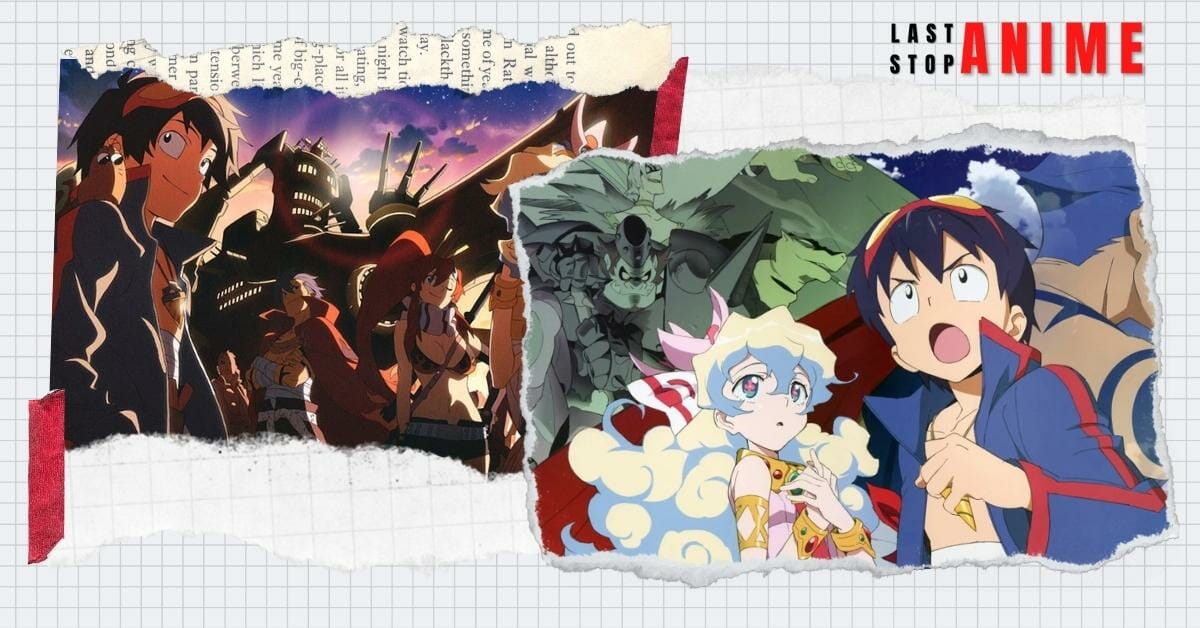 Episodes: 27
Aired: Apr 1, 2007, to Sep 30, 2007
Duration: 24min
Status: Finished Airing
MAL Score: 8.64
Genres: Action, Adventure, Comedy, Sci-Fi
Studios: Gainax
Where To Watch: Hulu, Disney+
Simon and Kamina were both born and nurtured in a low, subterranean settlement unknown to the renowned surface.
Unlike Kamina, who is free-spirited loose cannon trying to create a name for himself, Simon is a bashful young man with no genuine aspirations.
One day while digging in the ground, Simon comes across a strange object that turns out to be the key to an old weaponry they call Lagann.
Simon and Kamina use their new tool to fend off an unexpected assault from the surface with Yoko Littner, a feisty redhead wandering the world above. In the immediate aftermath of the battle.
Simon and Kamina set off on a walk with Yoko to experience the surface's wilderness as the sky is clearly visible.
The trio bravely battles these new adversaries and other survivors to recapture the surface, eventually solving a galactic-spanning puzzle.
They quickly join the battle against "Beastmen," humanoids that harass the last of humanity while riding powerful robots known as "Gunmen."
Similarities Between Tengen Toppa Gurren Lagann and Deca Dence
Aside from having a similar setting, ambience, and cast, both films are about using friendship to battle the world (the system).
Both take place in a steampunk-inspired, futuristic world where humanity has suffered some catastrophe.
As robots, space, and explosions appear, things gradually broaden in scope and become more significant.
Deca-dence is devoid of romance as well. However, this enables it to concentrate more on unraveling the plot than TTGL, which frequently focuses more on style than substance.
9. God Eater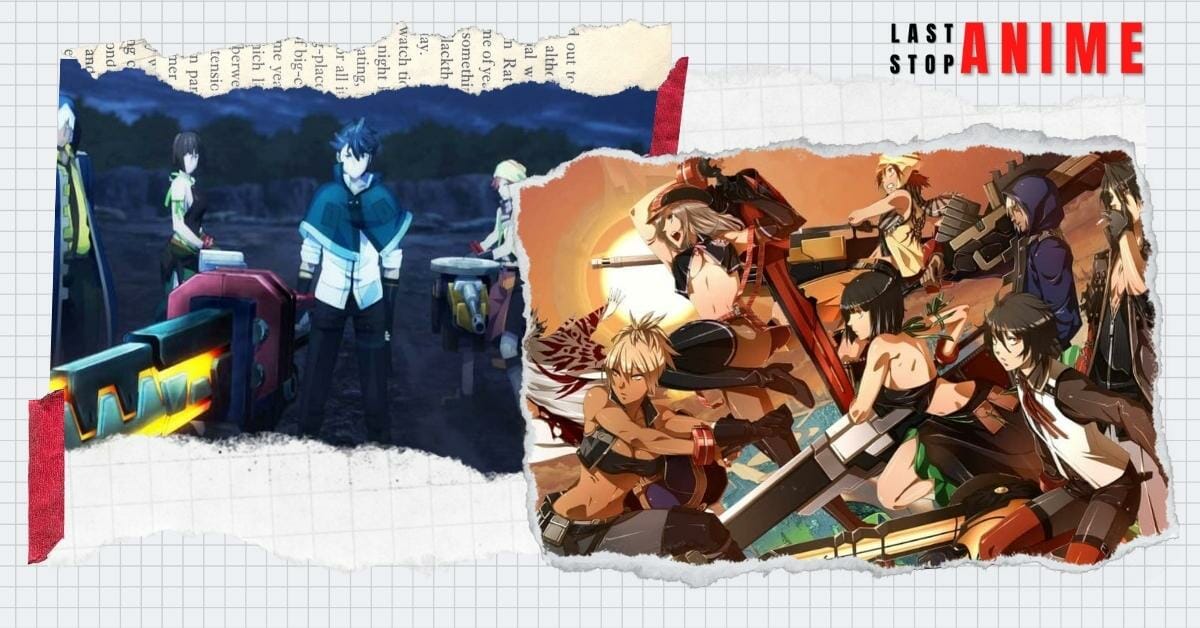 Episodes: 13
Aired: Jul 12, 2015, to Mar 26, 2016
Duration: 23min
Status: Finished Airing
MAL Score: 7.33
Genres: Action, Sci-Fi, Military
Studios: ufotable
Where to Watch: Funimation, Crunchyroll.
The setting for this anime is the far future. The year is 2071. Humanity is on the edge of extinction due to the arrival of man-eating "Aragami" that seem immune to conventional weapons.
They consumed the earth, destroying everything that stood in the way and leaving nothing behind.
A force called Fenrir was established to combat them, using "God Eaters"—special people endowed by Oracle cells, which enabled them to use the God Arc, the only weapon known to be able to kill an Aragami.
Lenka Utsugi, One such God Eater, is a Newer Messiah Eater whose God Arc appears as both a sword and a rifle.
Now that Lenka has become one of Fenrir's most potent weapons, he must overcome his God Arc to successfully eliminate the Aragami forever.
The monsters keep giving birth in great numbers as the remaining humans struggle to survive the night.
God Eaters are the only thing standing between the Aragami and annihilating the human race.
Similarities Between God Eater and Deca Dence
Both main characters share that their families perished at the hands of monsters.
Both anime include creatures that humanity must battle.
8. Astra Lost in Space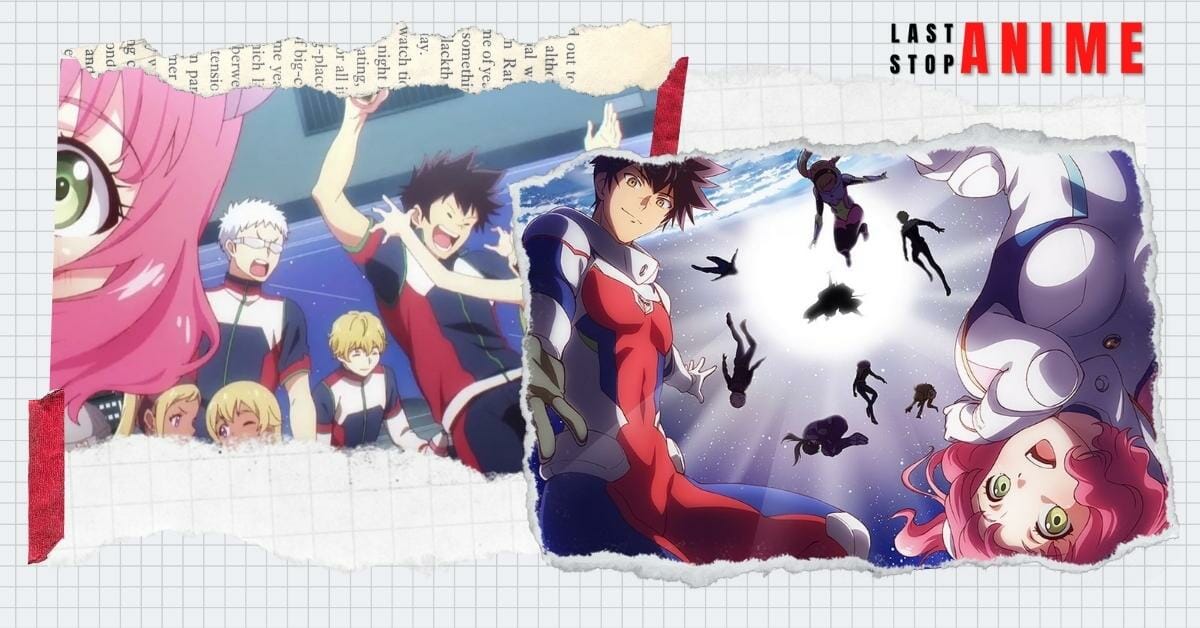 Episodes: 12
Aired: Jul 3, 2019, to Sep 18, 2019
Duration: 28min
Status: Finished Airing
MAL Score: 8.19
Genres: Adventure, Sci-Fi Shounen, Space
Studios: Lerche
Where To Watch: Hulu, Disney+, ESPN+, Netflix.
Space flight is practical and economically viable in 2063. The happy Aries Spring's pocketbook is abruptly taken by a careless criminal as she enters the spaceport to travel to a camp on the far-off planet McPa.
Fortunately, Kanata Hoshijima, who is physically fit, can get it for her. Aries quickly learns he is one of the adolescents accompanying her on the trip as team B-5.
A weird sphere of black light that the gang encounters at their campground cause them to be drawn into the far reaches of space, ruining their journey.
They are stranded with no apparent way out, but they discover a nearby abandoned ship that gives them the means to get home.
They quickly learn that they are thousands of light-years from home and not quite close to their campsite as they had believed.
The nine members must now carefully manage their resources, preserve their power, and work together as a team to overcome the darkness of space. This realization forces them to do so.
They set out on the perilous journey back home on their new ship, the Astra, even though the cause of the trip's unexpected obstruction is still unclear.
Similarities Between Astra Lost In Space and Deca Dence
They are both brief and pleasurable.
A perfect 12-episode anime that can be finished in a single day.
They have some brain-burst scenes.
7. Children of the Whales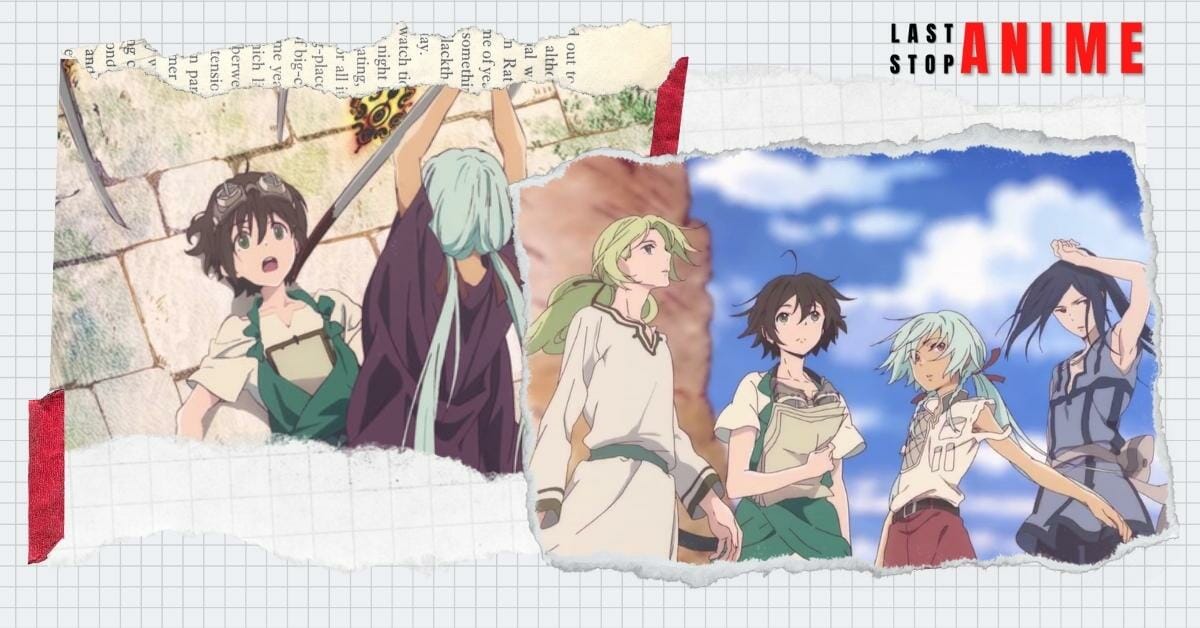 Episodes: 12
Aired: Oct 8, 2017, to Dec 24, 2017
Duration: 23min
Status: Finished Airing
MAL Score: 7.22
Genres: Drama, Fantasy Shoujo, Super Power
Studios: J.C.Staff
Where To Watch: Netflix
An island called the Mud Whale is located in a world with an infinite sea of sand.
An old village with most of its residents being "Marked," a trait with a double-edged sword that gives people magical talents but also makes them more likely to die young, is located in its interior.
Chakuro, a young and curious village archivist, records the newly discovered islands. However, each one is similar to the others in that it has been deserted save for the remains of previous residents.
Chakuro and his buddies join the scouting party when another island appears on the horizon for the first time in the previous six months.
They discover remnants of an ancient civilization while on the journey.
And Chakuro finds a girl within one of its crumbling ruins who will alter his destiny and the Mud Whale as he knows it.
Similarities Between Children of the Whales and Deca Dence
Both Children of the Whales and Deca-Dence are compelling anime shows about people who live in a mobile metropolis and must struggle to survive in a virtually post-apocalyptic environment.
Both series have a significant degree of world-building that piques your interest in their settings and cultures.
Although the stories and characters in Children of the Whales and Deca-Dence are significantly different, a key feature of the series is that its significant characters reject the secret societies that serve as its cornerstone.
6. Darling in the Franxx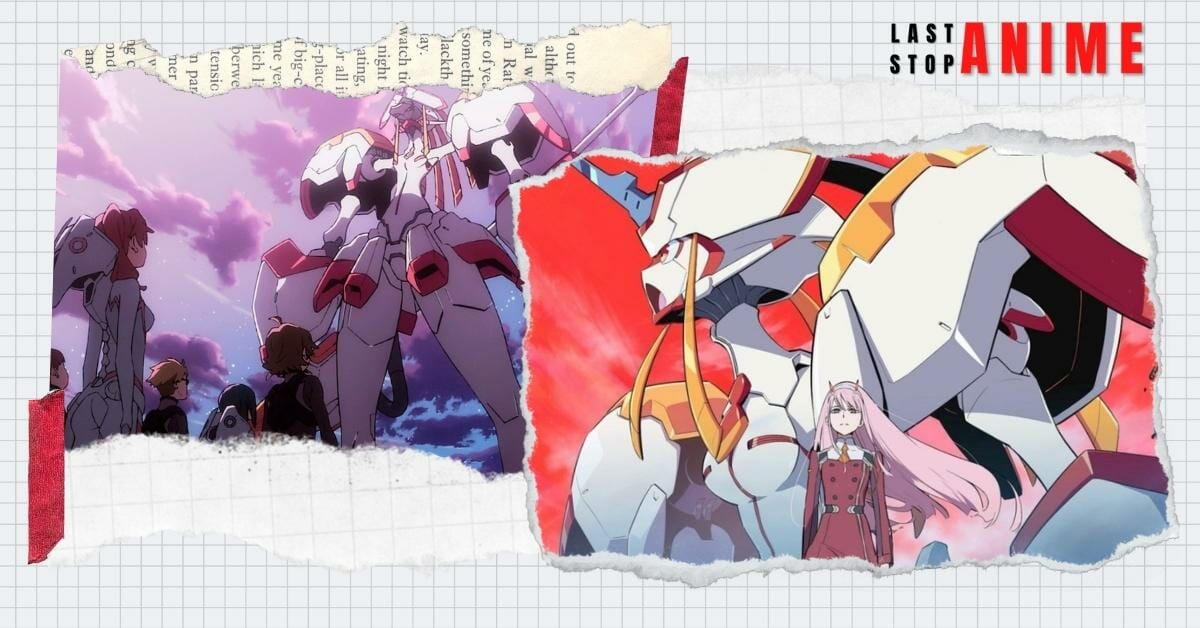 Episodes: 24
Aired: Jan 13, 2018, to Jul 7, 2018
Duration: 24min
Status: Finished Airing
MAL Score: 7.36
Genres: Action, Drama, Romance, Sci-Fi
Studios: A-1 Pictures, Trigger, CloverWorks
Where To Watch: Crunchyroll, Funimation, Prime Video
In a far-off future, after the land has been destroyed, humanity founds the mobile city Plantation.
Mistilteinn sometimes referred to as the "birdcage," is home to pilots created inside Plantation.
Children there don't know about freedom in the sky or the outside world. Their entire existence is spent fighting to complete objectives.
They fight against enigmatic enormous living creatures known as Kyouryuu with the help of the children's robots Franxx.
For the kids, taking the Franxx is proof that they exist. Hiro, who goes by Code:016, was formerly regarded as a prodigy.
He has lagged, though, and his continued existence seems pointless. Being unable to pilot franxx is comparable to dying.
One day he is confronted by "Zero Two," a mystery girl. Her head sprouts two horns.
Similarities Between Darling in the Franxx and Deca Dence
It has a similar plot aspect where youngsters or adults must battle monsters before realizing their false perception of the world.
Both shows take place in a post-apocalyptic world where characters must defend themselves from invaders. There are Gadolls in Deca-Dence, while Klaxosaurs are found in Darling in the Franxx.
5. Planetes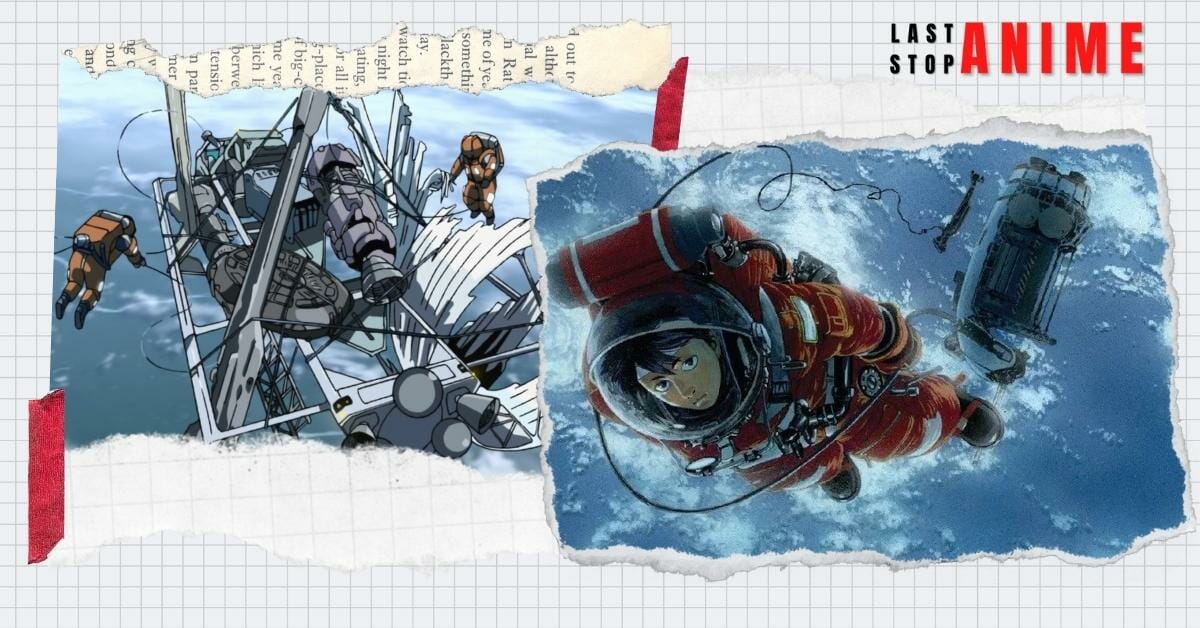 Episodes:26
Aired: Oct 4, 2003, to Apr 17, 2004
Duration: 25min
Status: Finished Airing
MAL Score: 8.28
Genres: Drama, Romance, Sci-Fi, Space Seinen
Studios: Sunrise
Where To Watch: Amazon
Space flight is no longer simply a pipe dream for humanity in 2075.
Ai Tanabe, a cheerful woman with a keen interest in space exploration, works for Technora Corporation in their Debris Section, the division tasked with removing hazardous space debris between the Earth and Moon orbits.
Ai quickly learns, though, how underappreciated her job is. The Debris Section, the laughing stock of Technora, is compelled to employ an outdated spacecraft known as the "Toy Box" for debris recovery since it is grossly understaffed and underfunded.
Unfazed, Ai perseveres and gradually gets to know the odd characters who make up the Debris Section staff, including the bumbling but kind-hearted chief clerk Philippe Myers, the enigmatic and secretive temp worker Edelgard Rivera, and the passionate and hot-tempered Hachirouta Hoshino who yearns for a spaceship to call his own.
The expansiveness of space serves as the backdrop for the private lives of ordinary people in the unorthodox science fiction series Planetes.
These characters may have been bred on Earth, but their ambitions and dreams are among the stars.
Similarities Between Planetes and Deca Dence
Future human history is the setting for both anime.
In both science fiction books, teenage females begin their professional lives in highly unique settings (Technora's spaceship in Planetes and Deca-Dence in… Deca-Dence). They learn how their workplace is set up and their job is incredibly humiliating.
4. Black Bullet
Episodes: 13
Aired: Apr 8, 2014, to Jul 1, 2014
Duration: 24min
Status: Finished Airing
MAL Score: 7.2
Genres: Action, Sci-Fi
Studios: Kinema Citrus, Orange
Where To Watch: Netflix, Crunchyroll, Amazon
A parasitic virus wreaked havoc on humanity by transforming people into monsters in 2021, pushing the survivors into enormous walled cities.
Cursed Children are already being born with the virus dormant within them, even though a specific metal can repel and combat these creatures.
These "cursed children" represent humanity's best chance at battling the virus.
Similarities Between Black Bullet and Deca Dence
The two main characters were both attacked by monsters when they were young, requiring them to acquire prosthetic or cyborg body parts.
Generally speaking, "protect the town from the monsters."
3. Gargantia On The Verdurous Planet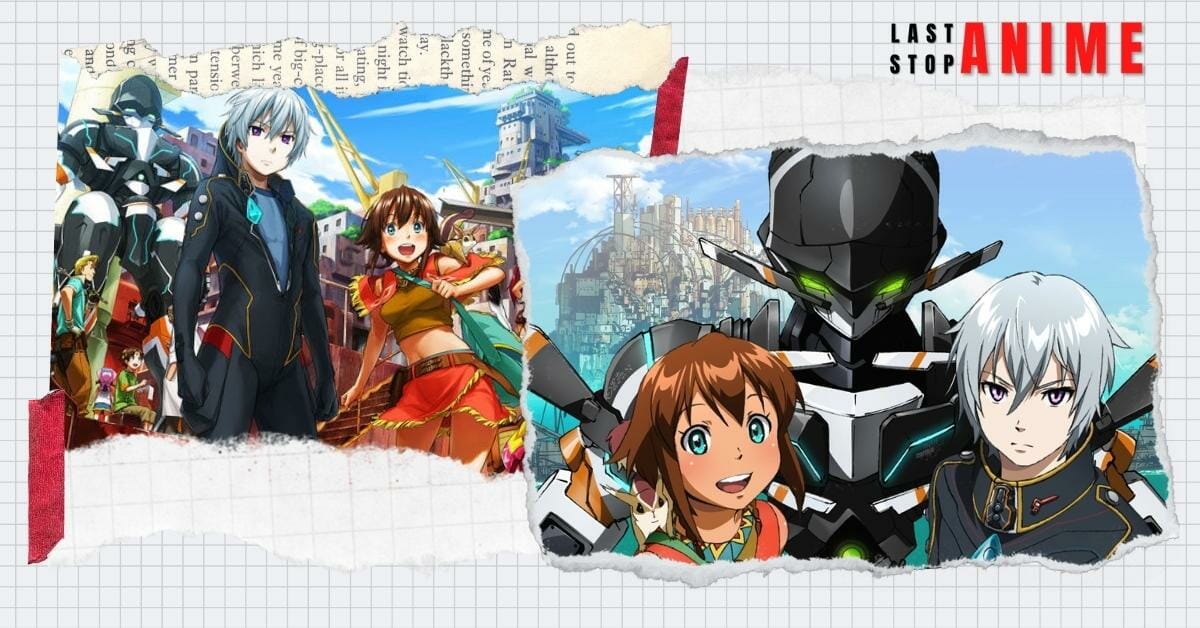 Episodes: 15
Aired: Apr 7, 2013, to Jun 30, 2013
Duration: 23min
Status: Finished Airing
MAL Score: 7.52
Genres: Action, Adventure, Sci-Fi
Studios: Production I.G
Where To Watch: Hulu, Crunchyroll
In the far future, after most humans have left Earth, the Interplanetary Union of Humanity is founded to oversee exploration and ensure human prosperity.
Hideauze, a terrifying peril that causes a galactic conflict to be fought that would save humanity from extinction, suddenly appear.
Ledo, a 16-year-old lieutenant in the Galactic Alliance, engages the monsters in combat while carrying the autonomous robot Chamber.
Unfortunately, Ledo loses control during the battle and is sent to the furthest of space when he crashes and lands on a marshy Earth.
Gargantia approaches Chambers on the planet – and removes it from the water, thinking they have discovered something priceless.
Believed to be hostile, Ledo goes aboard and abducts Amy, a young messenger girl, only to learn that the Gargantian people aren't as hostile as he had thought.
Ledo cannot communicate with his space-faring comrades and finds it difficult to establish his surroundings and cope with a new lifestyle as he is encircled by uncertainty.
But his peaceful days are about to end, for such a water world is more complicated than it first seems.
Similarities Between Gargantia on the Verdurous Planet and Deca Dence
Both anime series depicts a world where humanity is on the verge of extinction and is holding on in a moving fortress
. You experience both enjoyable slice-of-life moments and more somber ones.
Gargantia also has a significant twist that is disclosed, but it does so much later than it did in Deca-Dence.
2. Kabaneri of the Iron Fortress
Episodes: 12
Aired: Apr 8, 2016, to Jul 1, 2016
Premiered: Spring 2016
Duration: 22min
Status: Finished Airing
MAL Score: 7.26
Genres: Action, Drama, Fantasy, Horror, Supernatural
Studios: Wit Studio
Where To Watch: Netflix, Crunchyroll
When sudden arrival of undead creatures puts humanity at risk, and the only way to eliminate them is by inserting an iron plate into their heart.
When bitten, a person becomes one of them. These "Kabane," or monsters, increased in numerous.
The Hinomoto people built fortress stations, which they then fortified. Only steam locomotives, or "Hayajiros," can move between them.
Similarities Between Kabaneri of the Iron Fortress and Deca Dence
Kabaneri and Deca-Dence depict a post-apocalyptic world with enormous waves of creatures, so if you loved Deca-Dence, you might also enjoy Kabaneri.
1. Attack on Titan (Shingeki no Kyojin)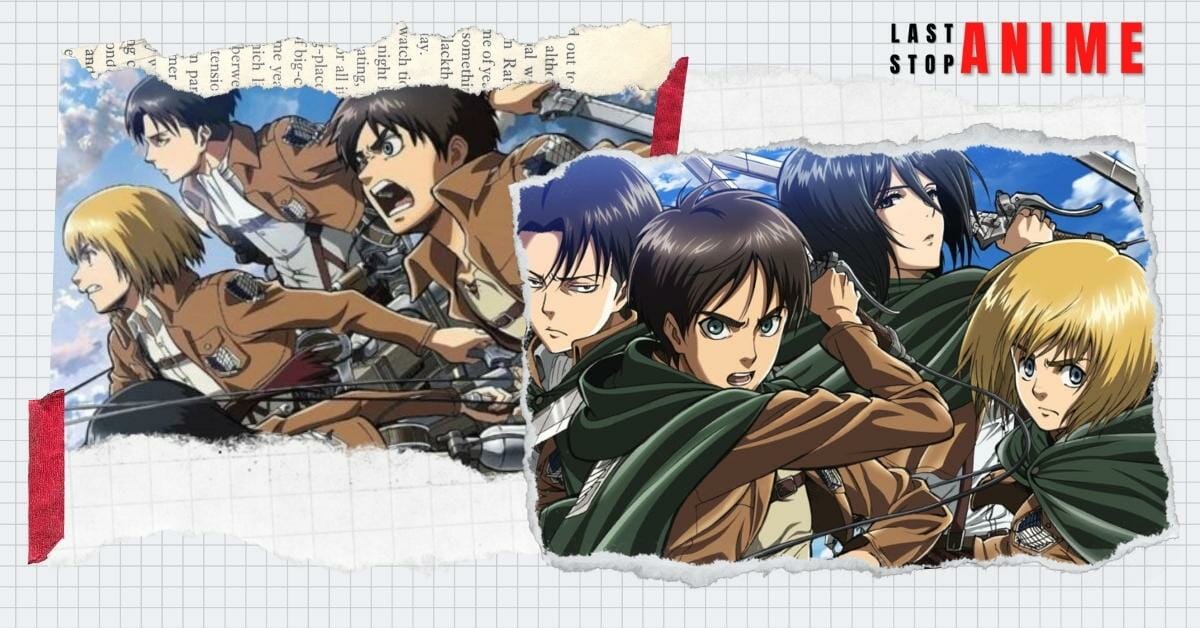 Episodes:86
Aired: Apr 7, 2013, to Sep 29, 2013
Duration: 24min
Status: Finished Airing
MAL Score: 8.52
Genres: Action, Drama, Fantasy, Shounen
Studios: Wit Studio
Gigantic hominids classified as titans nearly wiped out humanity ages ago, forcing people to cower in despair behind enormous concentric walls.
What makes these giants so horrific is that their thirst for human meat seems to have been inspired by joy rather than starvation.
There were no significant encounters for one hundred years after the surviving members of humanity began to erect defences to ensure their survival.
A colossal giant eventually manages to breach the allegedly indestructible outer wall, upsetting the fragile tranquilly and reigniting the fight for life against man-eating abominations.
Eren Yeager joins the Survey Corps, an army that battles the cruel titans outside the security of the walls, after witnessing a horrible personal tragedy brought on by the invaders and commits his life to their obliteration.
Eren and his adopted sister Mikasa Ackerman and his childhood buddy Armin Arlert fight the relentless war against the titans in Shingeki no Kyojin, which is based on the popular manga by Hajime Isayama.
They look for a way to defeat them before the last line of defence is breached.
Similarities Shingeki no Kyojin(Attack on Titan) and Deca Dence
Teams are dispatched to the outer world in both series by the living colony. The colony inhabitants view these teams in both series as useless.
The plot, lead character, and concept are all the same. Natsume, the main character, resembles Eren. She desires to combat the Gagolls from the front lines.
The adversaries, like the Gagoll, are comparable to the titans, as is the weaponry they employ in battle. The Gilland is comparable to the greater Titan that hit the wall.
There are enough commonalities between Attack on Titan and Deca-Dence for you to enjoy.
Other Anime Related To Deca Dence:
Cagaster of an Insect Cage
Chrome Shelled Regios
Shangri-La
Do you have any more suggestions like Deca Dence? Let us know in the comments section below.