NTR is a rare genre that stands for Netorare, meaning cheating in Japanese. These three simple letters easily provoke anime fans. It is rarely found as NTR as an abbreviation in Japanese slang and is usually hidden.
We can find broken relationships in ntr anime as the female character starts cheating on her husband or boyfriend, but it can also be a male character cheating on his wife by sleeping with someone else.
These anime usually focus more on the couple having an affair than the couple whose relationship is breaking down and is majorly found in hentai.
The ending of ntr anime is heartbreaking, painful, arrogant, and gloomy rather than a happy ending.
Mostly ntr can be found in romance anime, but sometimes it's hidden in various other genres.
List of Non-Hentai NTR anime
1. Netsuzou Trap NTR
Genres: Drama, Girls love, Romance.
Where To Watch: VRV, Crunchyroll
Netsuzou Trap is a girl's love story between the characters Yuma and Hotaru. The two girls are shown as childhood best friends. Hotaru is shown as an innocent and protective kind who protects Yuma from bullies, and she finds it her duty to do so.
Later Yuma gets a boyfriend and is nervous about it, so she calls Hotaru and her boyfriend on a double date.
Yuma and Hotaru do a dress rehearsal during which they kiss, and Yuma realizes that this kiss is far better than the one they did with their boyfriends.
Yuma then starts feeling uneasy about her relationship with Hotaru and starts thinking about what will happen if her boyfriend comes to know about the two girls.
2. Nozoki Ana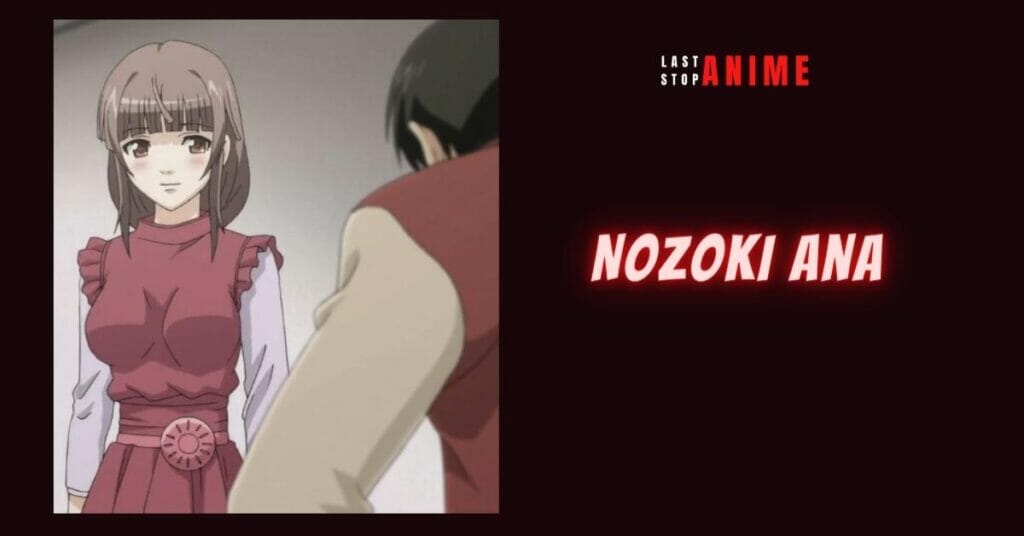 Genres: Comedy, Drama, Ecchi.
Where To Watch: 9anime
Nozoki Ana is an erotic romance anime. The start of this anime was pretty exciting, but slowly, the relationship turns into a nightmare.
Kido Tatsuhiko is an art student who moves to Tokyo, Japan, for normal student life, have fun in his school days with his friends and meet cute girls but his life takes a turn as he moves to an apartment where there was a hole in the wall of this room, and he could see his neighbor's house.
Everything was going well, but one day, he found a girl named Emiru masturbating. He visits her place and tells her there's a peephole in the wall, but instead of listening to him, she moves to her room.
Kido follows her, and he trips and lands on her. Emiru clicks his picture in an awkward position and tells him she'll delete it when he lets her peep through the hole. Soon he develops a peeping fetish and falls into Emiru's trap.
Later, he finds out that his girlfriend Kotobiki Yuri is cheating on him, and he tries to leave her. Still, Yuri tries to seduce him by telling him that she loves him, not her new boyfriend.
Still, Kido rejects her and starts dating a new person named Madoka, thinking that Emiru is hiding something and has a double-faced personality.
Later he realizes that he has feelings for Emiru, which creates a love triangle, and soon he breaks up with Madoka.
He discusses Emiru with her friend, and she tells him everything about Emiru; even after the disclosure, he accepts, and they hook up one night before graduation.
Emiru decides to leave Kido, but he waits for her for a year, and they both reunite as a couple.
3. Peach girl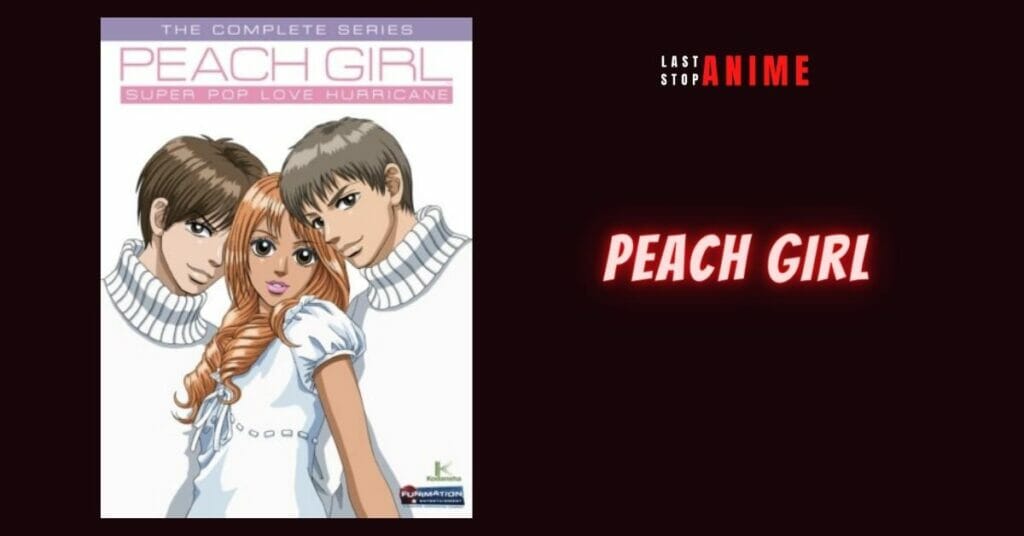 Genres: Drama, Romance, Slice of life, school, Shoujo
Where To Watch: Funimation, Crunchyroll
Peach girl is a manga-adapted anime. The story of this anime series revolves around Momo Adachi, a swimmer having bleached hair and tanned skin because of swimming.
She is standardized as a hooker who has many sexual relationships because of the rumors spread by her only friend Sae. Momo is in a relationship with Toji, and Sae is jealous of her because she also likes Toji and wants to make Toji hers.
Kairi Okayasu, a playboy, soon starts to have feelings for Momo, and as soon as Sae knows about it, she starts spreading fake news about Momo and Kairi's kiss and their relationship.
Sae shows her scorned feelings, tells Toji that Momo is cheating on him, and starts to manipulate him to break up with Momo.
Later Toji learns about Sae's dirty tricks and that Momo is not ditching or cheating on him with the help of Kairi.
He protects Momo from bullying. Momo now starts dating Kairi, but when she comes to know why Toji left her, she gets into a dilemma about whom to choose, which causes her an emotional ruin.
This anime is a young story showing unrequited love, a best friend's betrayal, and a perfect love triangle.
4. White album 2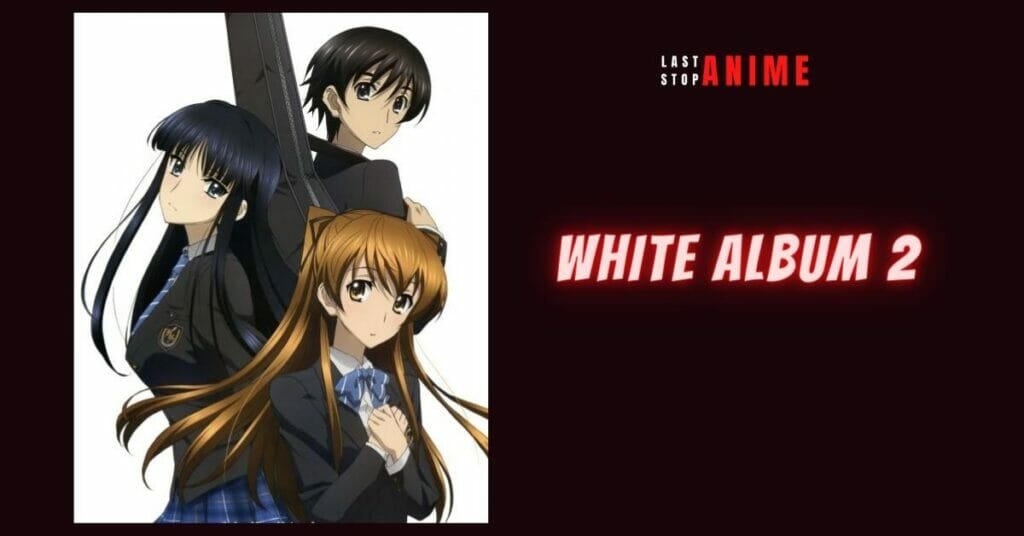 Genres: Drama, Romance, Slice of life, Love polygon, Music.
Where To Watch: Crunchyroll, 9anime
White album is a very heart-touching ntr anime. The anime consists of three friends who try to create a band. The protagonist, Haruki Kitahara, is a guitarist and member of the Light Music club on the verge of disbanding.
Haruki desperately wants to perform at the school festival, but as the members left the club, he had to perform solo in his practice room.
Listening to Kitahara's guitar, Setsuna, an idol vocalist, and Touma, a brilliant pianist, join him from the adjacent room while he plays songs from the white album.
He convinces them to join the club to perform at the school festival. They all practice, talk, stay together and become really good friends.
The story turns when both the girls fall for the same guy. He is dating Setsuna, but soon Touma also confesses her feelings to him, and he tells her that he loves her too, creating a love triangle.
This anime is full of complex romance and music but has a weird ending.
5. Nana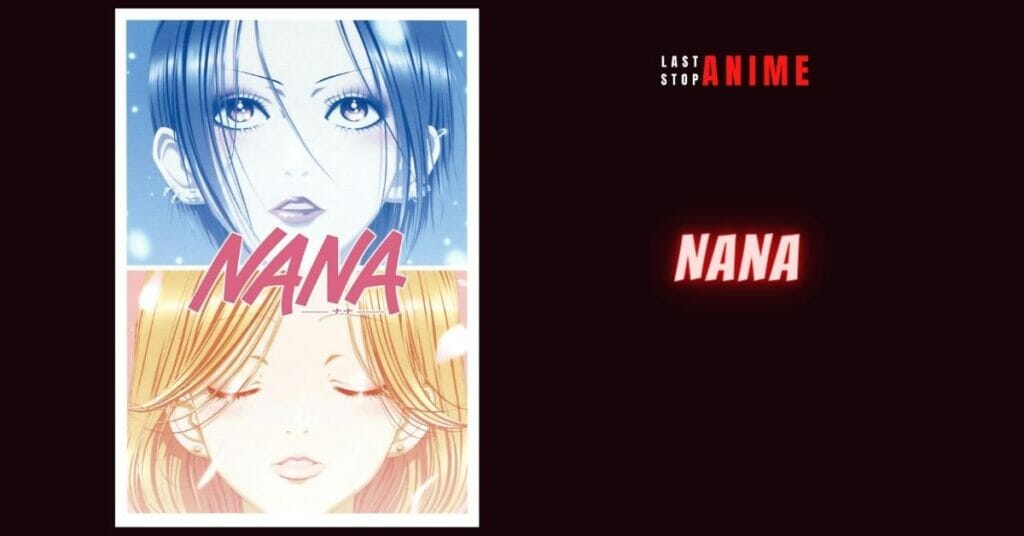 Genres: Romance, Music.
Where To Watch: Hulu, Hidive
Nana is a beautiful anime with music and cheating as the main themes. The anime's main characters are two girls, Nana Komatsu and Nana Osaki, who move to Tokyo at the age of twenty.
Even after the name and age are the same, they have entirely different personalities.
Nana Komatsu is a helpless clingy type who quickly falls in love but has certain ambitions in life. She goes to Tokyo for her boyfriend, Shouji Endo.
On the other hand, Nana Osaki, leaving the boy she loved in her old band behind, travels to Tokyo to follow her passion and pursue her dreams of becoming a famous professional punk rock singer.
Both the girls coincidentally board the same train and share the same apartment. They stand and support others even in their hard times and soon start having an unbreakable bond leaving their relationships behind.
6. Rumbling Hearts
Genres: Drama, Romance, Slice of life, Love polygon.
Where To Watch: Crunchyroll, Funimation
This anime had a lot of drama with many emotional elements and is worth watching. The main character Takayuki Narumi is a High school student who is brought into a relationship with Haruka Suzumiya because of his friends Mitsuki Hayase and Shinji Tara.
Takayuki and Haruka spend some intimate time together, naked in bed. Still, because of the anxiety of doing something for the first time and the nervousness, they do not get involved with each other sexually.
Takayuki gets late for his date with Haruka; on the way, Mitski asks him to buy a ring for Haruka. Because he gets late, Haruka has an accident and gets into a coma.
Three years later, Mitsuki and Takayuki start their relationship, and Takayuki starts working part-time in a restaurant.
One day, Haruka's sister calls Takayuki and tells him that Haruka is out of a coma and wants to meet him taking an emotional toll on the characters.
7. Yosuga No Sora
Genres: Drama, Romance, Ecchi, Harem.
Where To Watch: Crunchyroll
Sora Yosuga or Yosuga No Sora is an adult visual ntr anime. The story begins as a sad story, but slowly we see a lot of harems as the anime progresses.
The twins Haruka and Sora Kasugano lose their parents because of an accident, and they move to their grandparent's place to relive the life they used to have four years ago and create new memories, but moving to the old town means reliving the old existing happy or sad memories and recalling the nostalgia.
Soon their life gets filled with new love, friendships, and lust. The main characters get involved in various relationships, and things do not end well for them.
8. Koi To Uso ( Love and Lies)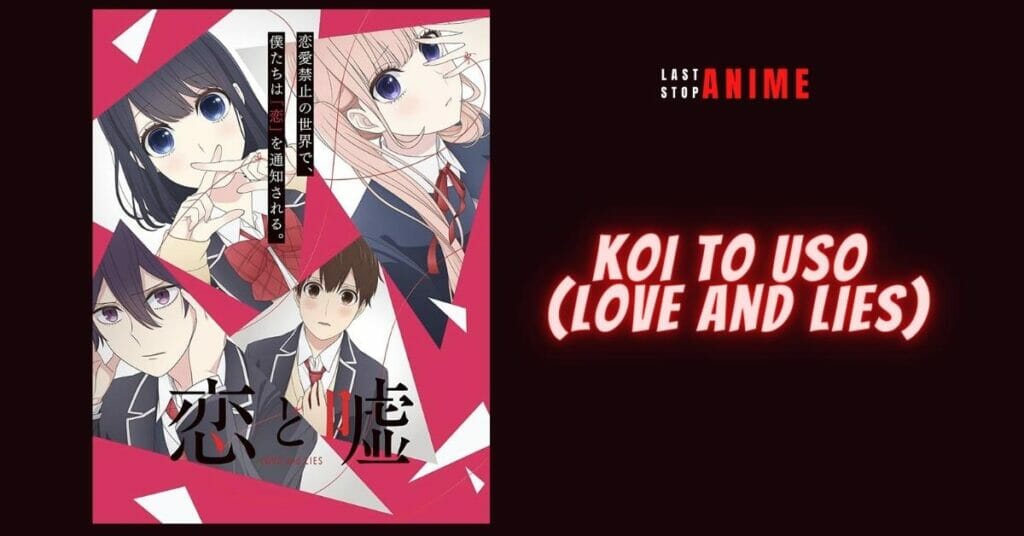 Genres: Drama, Romance, Love polygon, School.
Where To Watch: Hidive, Prime Video
Japan is suffering from a low birthrate and is blaming the population for their non-lasting relationships and wrong choice in selecting a partner.
The government creates software that brings ideal people together.
Each sixteen-year-old student is given time to spend with their assigned partner with whom they will have babies. They cannot deny the partner as it is a law, but student Yukari Nejima loves Misaki and confesses his love to her before his notice comes.
Still, as soon as the notice arrives, he knows that Misaki is not his assigned partner. Still, Ririna Sanada is, things start getting complicated between the three and the guy assigned to Misaki, and it gets a task for them to figure out their relationships.
9. Scum's Wish (Kuzu No Honkai)
Genres: Drama, Romance, School, Seinen.
Where To Watch: Hidive, Netflix
In some way, all the characters are in young love and are in some way or the other connected in this NTR anime. Hanabi Yasuroka and Narumi Kanai are childhood best friends.
Hanabi loves Narumi, who is her homeroom teacher now, but one day Hanabi realizes that Narumi loves Akane Minagawa, who is a new music teacher.
So Hanabi finds much love and admiration in Narumi's eyes for Akane. She approaches Mugi Awaya, who was Akane's tutor in middle school days and was in love with him.
Hanabi and Mugi start being together in a fake relationship and decide not to fall in love, wait for their love to return, and end the relationship on their return.
Both of them support each other in their time of loneliness, emotionally and sexually, when they miss their unrequited love partners.
This anime has unpredictable drama as the characters clearly show their scorned feelings, psychotic behavior, jealousy, obsession, and possessiveness toward each other.
10. School days
Genres: Drama, Romance, Harem, School.
Where To Watch: Crunchyroll
School days was a visual novel that was later developed into an adult game with many erotic scenes and then into an anime. It is a slice of life full of drama in which first-year high school student Makoto Itou lives with his divorced mother.
In his second year, he starts feeling infatuated with Kotonoha Katsura. They both travel together on the train to and from school.
She is a polite and soft-spoken girl devoted to Itou, but Itou being a complete opposite, dated many other women.
In the class, Makoto meets Sekai Saionji, a cheerful and happy girl who shows a lot of interest in Makoto's crush story and helps the two to meet each other.
Later she realizes that she also has developed feelings for Makoto, and she tries to have him for herself. The characters in the anime cheat and manipulate and portray young love perfectly.
11. A Town Where You Live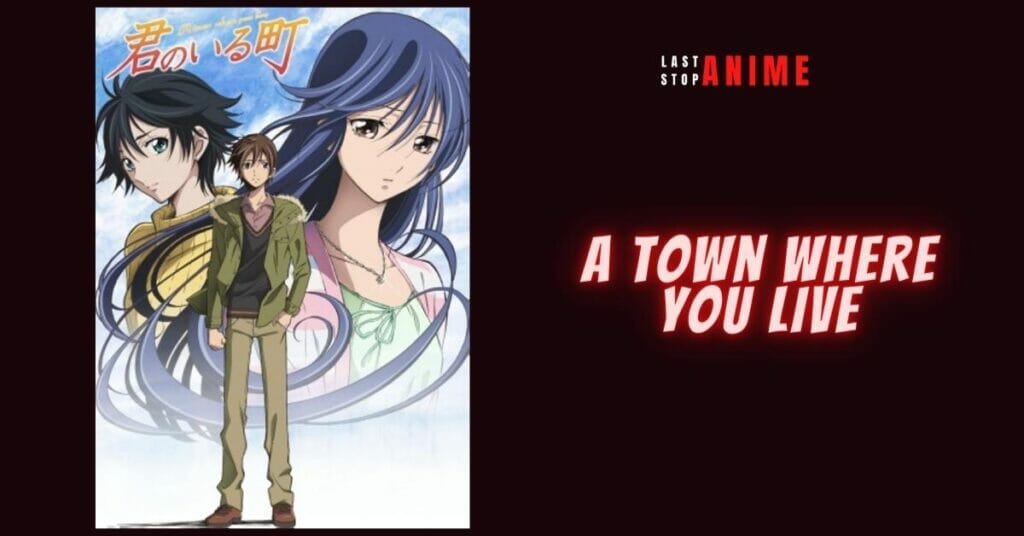 Genres: Drama, Romance, Slice of life, Love polygon, Shounen.
Where To Watch: Crunchyroll, Funimation
A Town Where You Live is an exciting manga-adapted anime. It'll start with a cute romance, but the story will take so many turns that it will break your heart apart.
The main characters of the story are Haruto Kirishima and Yuzuki Eba. Yuzuki lives in Tokyo and Haruto in Hiroshima. He tells Yuzuki to come to Hiroshima if she gets into any problem.
Yuzuki starts struggling to live with her stepfamily, and without any doubt, she moves to Hiroshima. Reaching there, she starts helping Haruto to be good friends with his crush and instead of doing that, Haruto starts to develop feelings for Yuzuki.
Haruto tries to help Yuzuki to make things better between her and her stepfamily and moves to Tokyo with Haruto's help. Haruko and Yuzuki enter a long-distance relationship, but as time passes, Yuzuki breaks contact with him.
Haruko, out of curiosity, moves to Tokyo and finds out that Yuzuki is out of sympathy, dating a boy named Kyousuke Kazama, who has a terminal illness.
So he decides to take Yuzuki back, prompting Kyousuke to undergo risky surgery to protect his love. Because of this, he dies, and Haruto and Yuzuki stop talking to each other because of guilt.
Two years later, while dating Asuka Mishimira, Haruto reencounters Yuzuki. They both realize their love is still alive, and he breaks up with Asuka.
When Yuzuki's father knows about their relationship, he disapproves of it, and she runs away with Haruto to make her father accept them.
Things get complicated as the couple starts facing difficulties sustaining their relationship as Haruto graduates and moves to Kochi for his job.
The two break up because of their problems, but two years later, Haruto shifts back to Tokyo, and the two reunite, fall in love again and marry each other.