While this might come as a surprise to many, Gourmet and cooking manga have a huge fanbase among the manga readers. People are always searching for the next great cooking manga that will immerse them in its world through food.
Through its various dishes, the manga communicates several things ranging from feelings and emotions to even the history and roots of a nation.
Many are also introduced to the wonder of Japanese cuisine, which they might not have previously known.
Throughout the years, we have received several great manga that centers around cooking manga while intertwining other genres such as drama, comedy and slice of life.
In this list, we will recommend some of the best cooking manga everyone needs to try.
16. Hell's Kitchen
Number of Chapters: 53
Genres: Cooking, Comedy, Supernatural
MAL Rating: 7.46
Status: Completed
While many of us might associate Hell's Kitchen only with the popular Gordon Ramsay series, this heresy gourmet manga is able to hold its own in the community.
The story starts as we see the Earl of poor eating, a devil called Dogma craves to eat the soul of a true chef but is yet to be satisfied till now.
He decides to take a new approach while tutoring a boy with no experience to become a great chef.
The boy, an innocent boy named Satoru undergoes brutal training to achieve his goals, but the inevitable ending he gets is only death.
Seeing the boy maturing and learning about the culinary world is extremely entertaining, while the storyline keeps us hooked.
The art perfectly enhances the manga's tone while acting as a great accompaniment to the comedic scenes.
Hell's Kitchen is a short read that any cooking manga enthusiasts should definitely check out.
15. Kinou Nani Tabeta?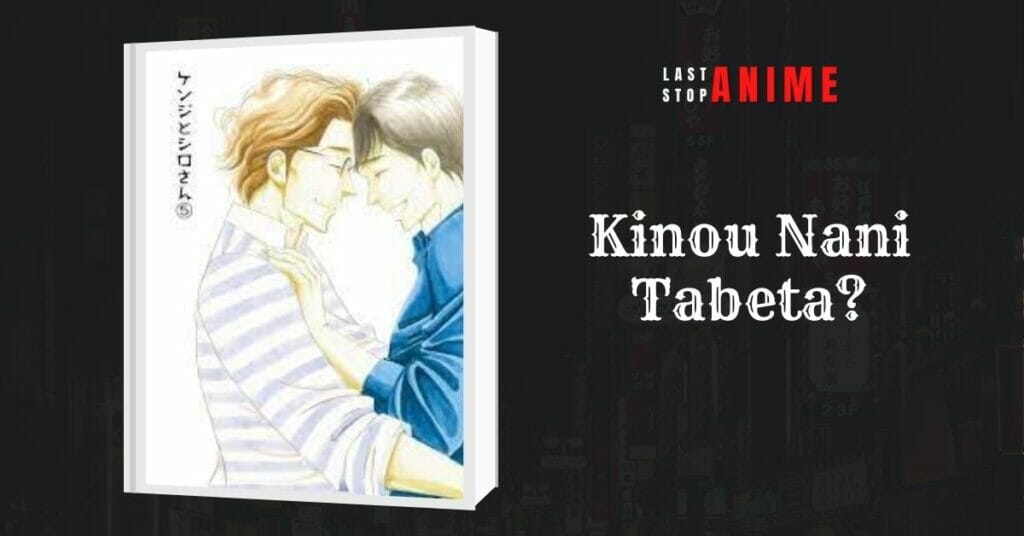 Number of Chapters: 144
Genres: Cooking, Slice of life, Comedy, Shounen Ai
MAL Rating: 7.46
Status: Currently Publishing
Kinou Nani Tabeta, with the English translation of "What did you eat yesterday?" is an extremely underrated and sweet manga.
It follows the protagonist, a serious and dedicated lawyer, as he prepares and cooks delicious food for the man he loves.
In addition to being a slice-of-life manga that gives us a great look into gay relationships, it also has the brilliant idea of letting us get attached to the characters as we see them preparing for dinner.
The delicious meals also show the difference in the main characters, who can connect through food.
One is as serious as a person gets, while his lover is extremely extravagant.
It is a very detailed cooking manga that shows everything from searching for ingredients to the cooking part.
It takes a light-hearted tone while also commenting on several issues affecting society and is a must-read for any fan of the culinary arts.
14. Yume-iro Patissiere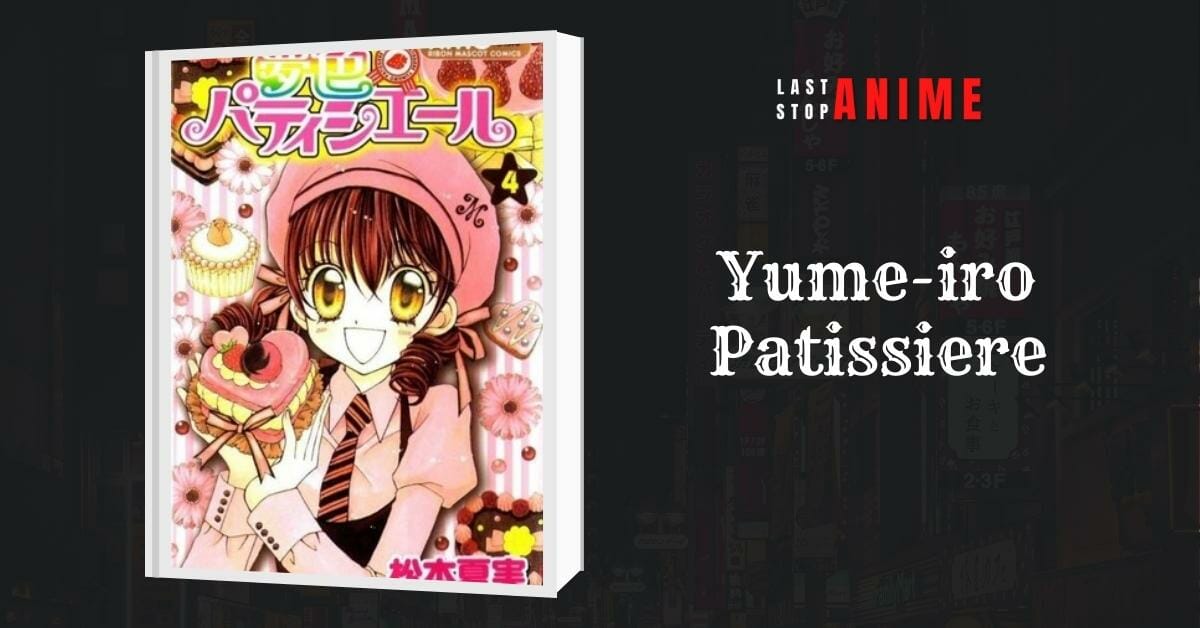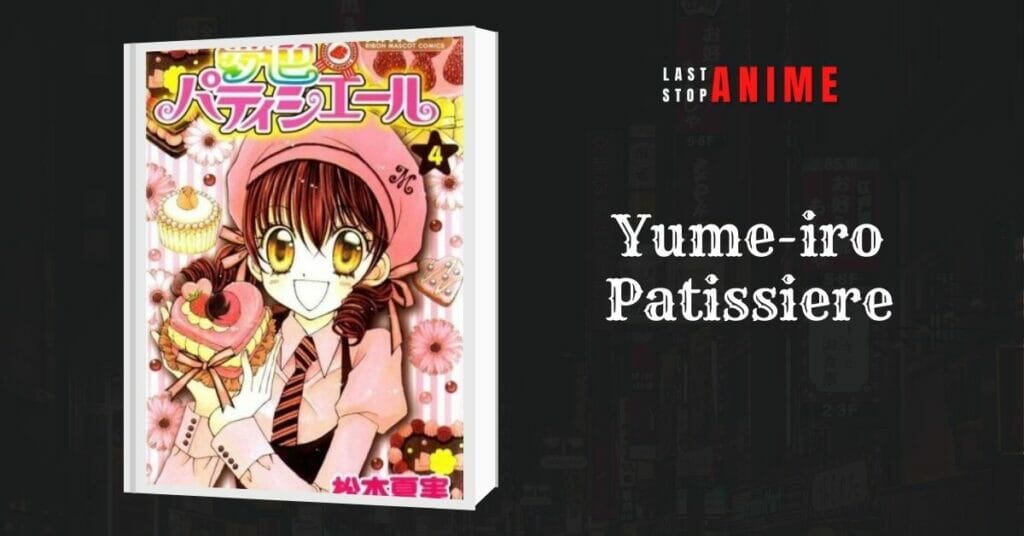 Number of Chapters: 59
Genres: Cooking, Romance, Comedy, Fantasy
MAL Rating: 7.82
Status: Completed
Yume-iro Patissiere is one of the older cooking manga that follows the journey of a young girl who wishes to become a pastry chef.
When a chef convinces a girl named Ichigo Amano to join St. Marie academy after noticing her talent, she's determined to join it and becoming a perfect chef.
However, life isn't so simple for her as she enrols in a class with high competition and boys known as the sweets princes who stand on top.
While struggling with her new life, Vanilla, a supernatural being who is part of the sweet spirits, decides to help her achieve her dream.
Through this, Ichigo learns various new techniques that constantly impress the other students and help her make new friends.
With a story that borders on harem and a lot of development between characters, not just romantic, the manga is an extremely entertaining experience.
The art is reminiscent of any Shoujo manga while still remaining detailed in the scenes where we see characters cook or eat.
13. Ms. Koizumi Loves Ramen Noodles
Number of Chapters: 27
Genres: Cooking, Slice of life, Comedy
MAL Rating: 6.79
Status: Currently Publishing
Ms Koizumi loves ramen noodles is yet another calm and chill manga that takes a simple approach rather than relying on intensity.
It follows a mysterious yet beautiful young woman called Koizumi, who has taken the interest of her high school classmates.
To add to her nature, she is also very silent and has limited interactions with everyone.
As one of her classmates is intrigued by her, she notices that Koizumi has an interesting habit of frequenting the city in search of Ramen.
She goes from one restaurant to another while searching for the best ramen dishes and quickly gulping them down.
As we see her enjoy the delicious food, we also see Koizumi form relationships with her classmates, who slowly start to understand her.
Through the medium of food, their bonds grow deeper, which is very pleasant for the reader.
While cooking anime is extremely popular, the manga is still yet to be appreciated by many.
12. Hana no Zubora Meshi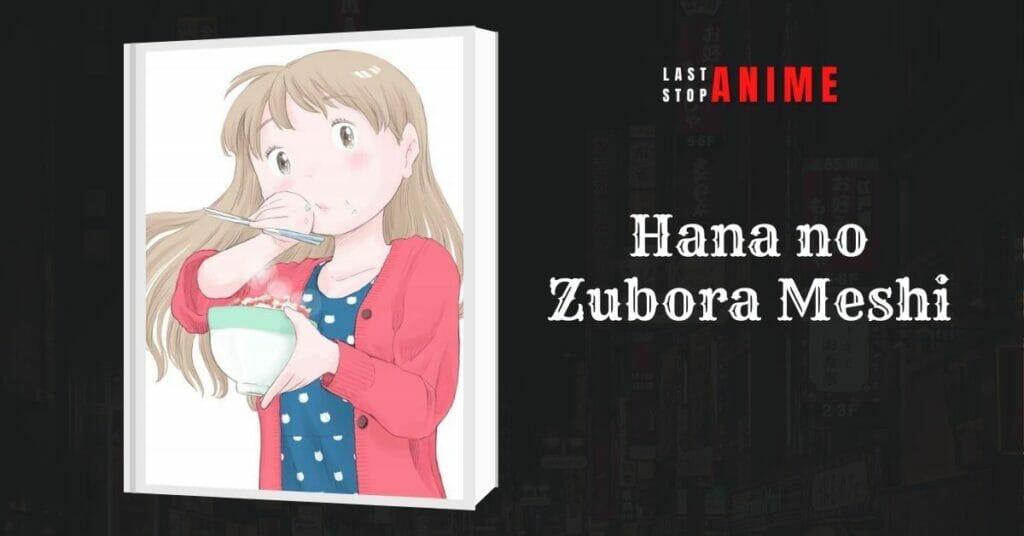 Number of Chapters: 49
Genres: Cooking, Slice of life, Comedy
MAL Rating: No Rating Yet
Status: Currently Publishing
Hana no Zubora Meshi is not an intense story of competition or about a super chef. Still, it's a hilarious yet sweet cooking manga revolving around a young woman named Hana.
Living a lonely life due to an extremely busy husband who is away from home, she struggles to keep herself entertained.
She finds solace in spending her time in cooking home-cooked meals that are not gourmet in any sense but still look delicious.
While working part-time in a bookstore, she has no time to make elegant meals, so we see her whip up something quickly and sloppily.
It would be very hard to find a manga that combines both cooking and slice-of-life elements while giving a feel-good sense to readers.
It is extremely relatable, especially to working people who hardly ever have time to dedicate to other activities.
In addition, it also shows her lazing around on her holidays while eating food in an extremely careless way, that I'm sure many of us have also done.
Make sure not to miss out on this hidden gem that is bound to gain a large audience in the coming years.
11. Dining Bar Akira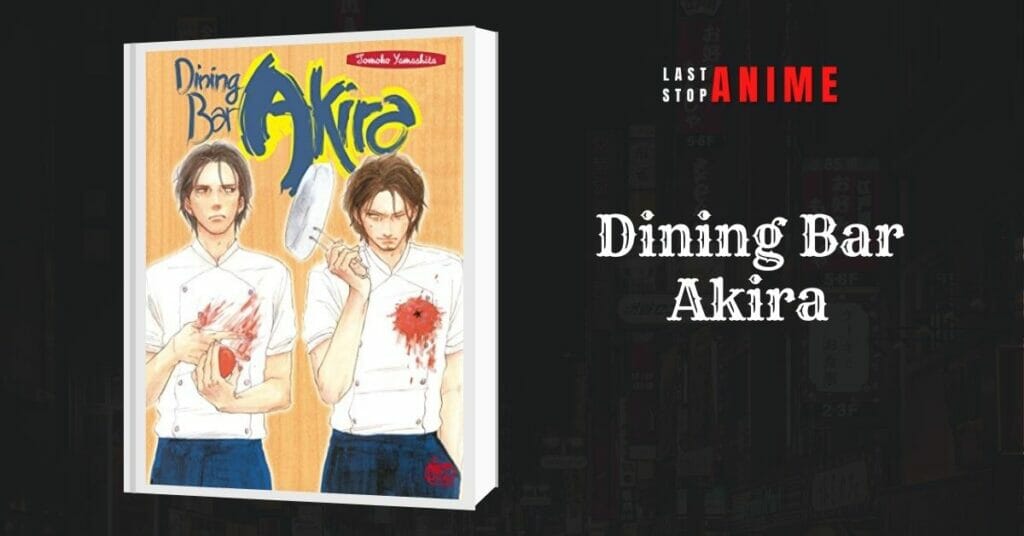 Number of Chapters: 7
Genres: Cooking, Slice of life, Comedy, Boys Love
MAL Rating: 7.27
Status: Completed
Dining Bar Akira is a charming manga that manages to stay in the reader's mind despite its short number of chapters.
Set in a busy bar and restaurant, it gives us a realistic look into the romantic life of its manager, a man named Akira Koji.
We see him as he tries to run it in the most organized way possible without much care for his life beyond the bar.
However, this changes when he receives a late-night confession from one of his co-workers, who is a much younger man than himself.
In addition, Akira had never thought much about his own sexuality or preferences.
Following this, he realizes that he is constantly distracted by such thoughts, and the man who was several years younger than him constantly occupies them.
While trying to maintain a proper work-life balance, several obstacles come his way.
Dining Bar Akira is a brutally honest manga that shows us the mental toll of the food industry and its effects on its workers' lives.
10. Bambino!
Number of Chapters: 313
Genres: Cooking, Drama, Slice of life
MAL Rating: 7.90
Status: Completed
Bambino! is the perfect series to demonstrate how cooking manga can be one o the most exhilarating experiences ever.
It follows the life of Shogo Ban, a college student who dreams of becoming a great cook.
Thanks to an acquaintance, he finally gets this opportunity as he works at a very popular Italian restaurant named Trattoria baccanale.
While he left behind all his loved ones and hometown to pursue his passion, Shogo never expected how intense the restaurant business would be.
The young man struggles not to get overwhelmed by the pressure and overcome hurdles in both the restaurant and his life.
With an excellent supporting cast of characters and a storyline that keeps us constantly engaged, Bambino! is a series no one wants to miss out on.
While it might not be one of the obvious titles one thinks of related to cooking manga, it is undoubtedly one of the best.
9. Today's Menu for the Emiya family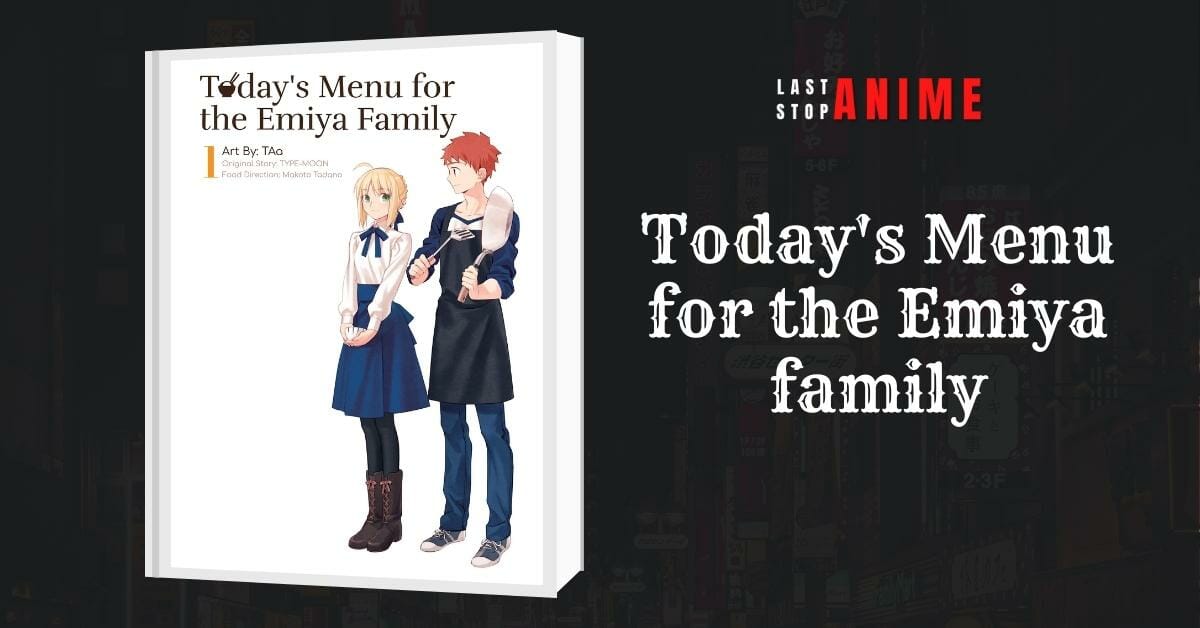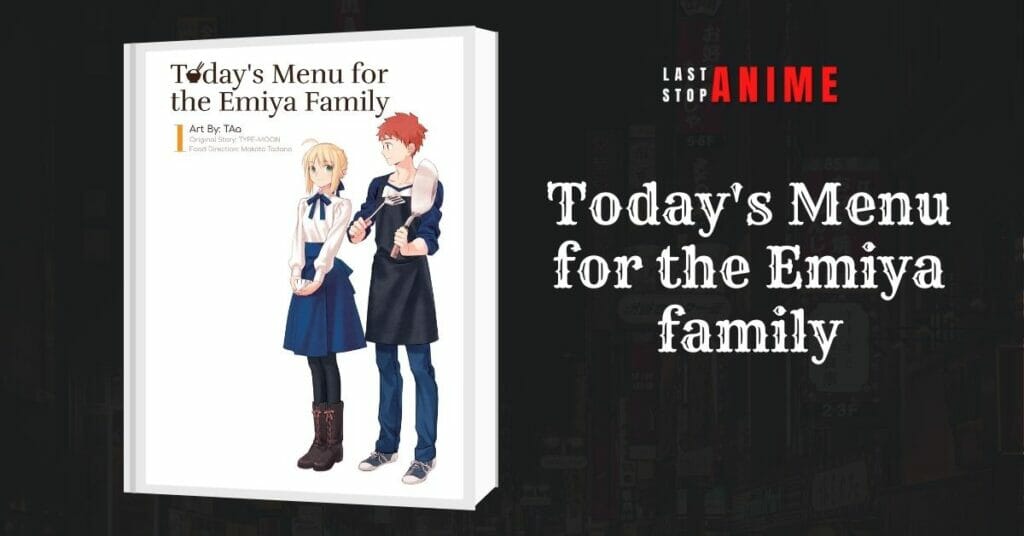 Number of Chapters: 24
Genres: Cooking, Slice of life, Comedy
MAL Rating: 7.77
Status: Currently Publishing
Emiya-san Chi no Kyou no Gohan, with the English translation of Today's menu for the emiya family, is a very wholesome spin-off manga of the Fate/Stay night series.
The Slice of Life manga brings together all our favourite characters in the fate series as the protagonist, Shirou Emiya, cooks for friends and family throughout the seasons.
With the threat of the Holy Grail war being gone, most characters from the fate universe live a boring and bland life with nothing to do.
In order to show his servant, Saber, the wonders of Japanese cuisine, Shirou takes it upon himself to cook her wonderful meals.
Right from selecting ingredients to making her eat a variety of food, this is a much-welcomed change from the regular electrifying nature of the Fate series.
In addition, they are also often joined by guests and acquaintances who watch the master chef at work.
8. Kitchen Princess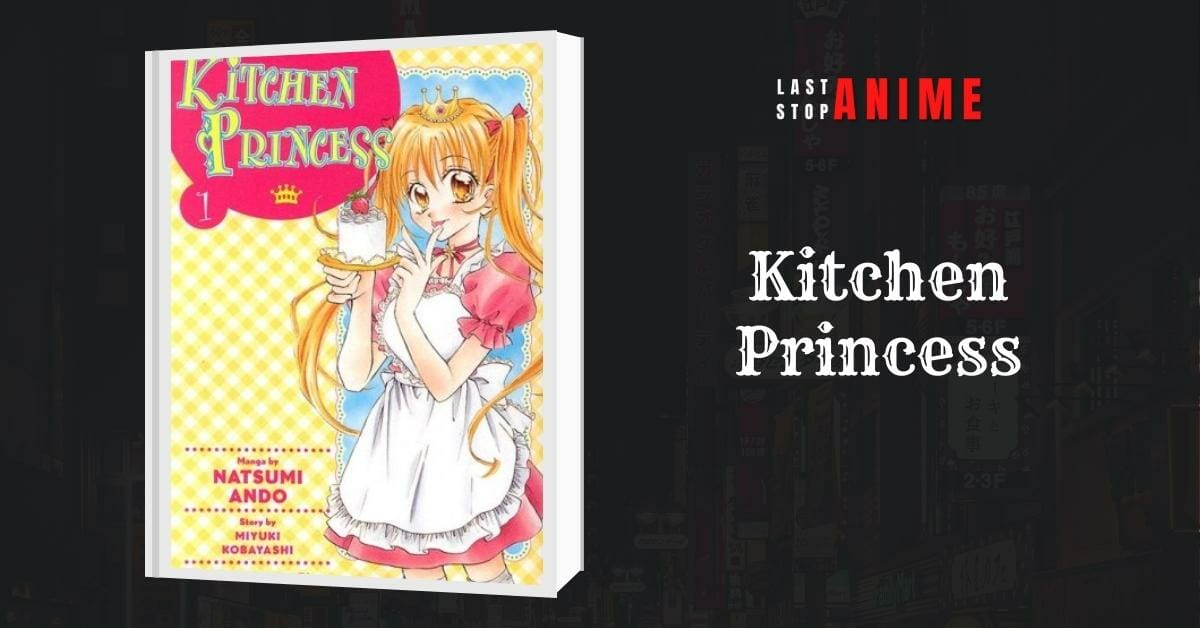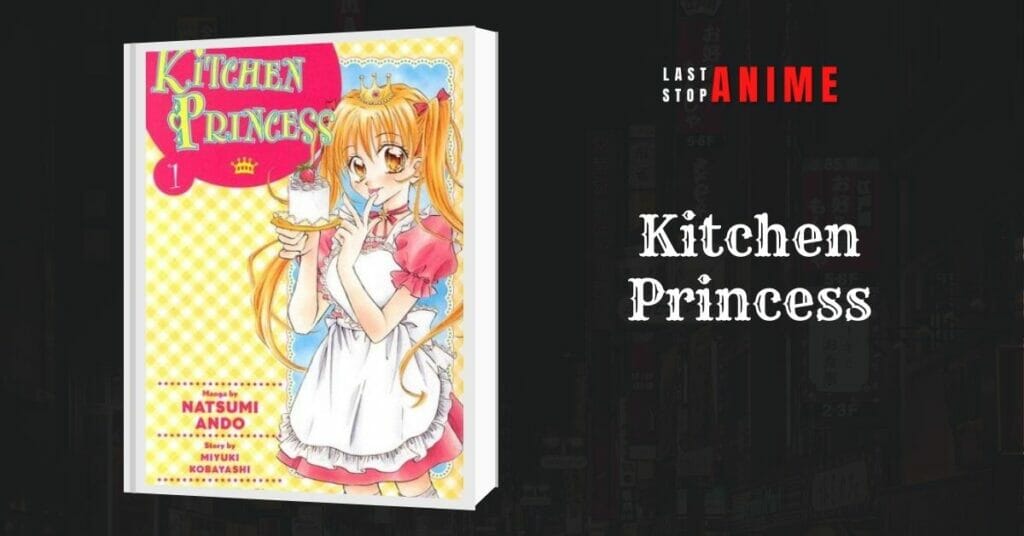 Number of Chapters: 53
Genres: Cooking, Drama, Comedy, Romance
MAL Rating: 7.92
Status: Completed
Kitchen Princess is one of the greats in the gourmet manga that follows the life of a young girl called Najika.
Showing passion for food from a young age, she would never fail to bring smiles to others' faces with her cooking.
On eating a delicious cup of flan from a person she called the flan prince, she finds a silver spoon with the emblem of a school called Seika academy.
While she resented leaving the orphans she was raised with, she realised the importance of chasing her dream of becoming a pastry chef and enrolling on the prestigious Seika Academy.
Faced with unpopularity as soon as she joined, Najika's class had two boys who could notice her talents and help in supporting her.
Along with this, they were also very popular brothers who were liked by all despite not seemingly not getting along with each other.
With renewed spirit, Najika works her way towards becoming a respected cook while trying to find her flan prince with the only clue she has, a silver spoon.
Kitchen Princess is a Shoujo manga done to perfection, right from its cute designs to bittersweet romance.
In addition, the drama keeps us constantly engrossed while the characters are extremely memorable.
Each chapter also has an actual recipe which means readers can cook along at home with their favourite characters.
7. Oishinbo: À la Carte
Number of Chapters: 1039
Genres: Cooking, Slice of Life, Drama
MAL Rating: 7.30
Status: Hiatus
Even among the many new cooking manga that have come out in recent years, Oishinbo remains relevant and relatable to readers.
It is a true love letter to any cook and restaurant, and we see the main character, Shirou, take us on an epic journey through food.
It follows his life as he is tasked with creating an ultimate menu that acts as a respectable representative of Japanese cuisine.
While many are surprised by the young chef being chosen due to his unlikable reputation, his knowledge of food and drinks and his cooking expertise makes him nothing less than a culinary prodigy.
With an extremely detailed analysis of food that makes every person drool and want to eat, Oishinbo is aimed at a more mature audience with its Seinen themes.
The art is simplistic while giving us the old retro feel but still holds enough depth to show us the feeling behind each character.
In addition to this, there is a lot of development and time dedicated to each character, and the manga uses its length very efficiently. At the same time, see the main character coming up with the ultimate menu.
While the series has only reached a niche audience till now, its impact and commentary on dishes are far-reaching.
6. The Drops of God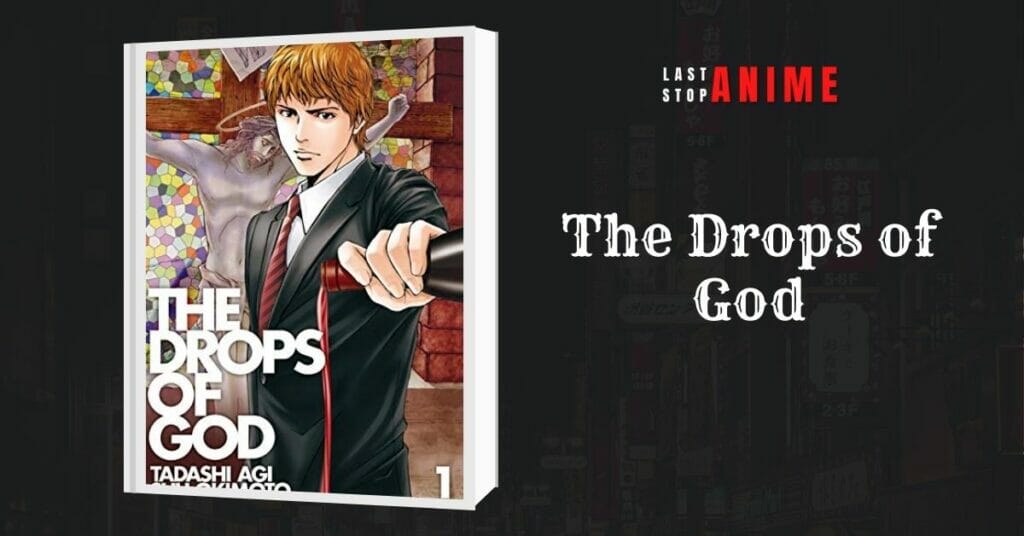 Number of Chapters: 439
Genres: Cooking, Drama, Mystery, Slice of Life
MAL Rating: 7.54
Status: Completed
As a series that spanned nearly a decade, The drops of god provides more than enough entertainment to the reader while letting them immerse themselves into it.
Instead of following food in general, The Drops of God follows one item in particular, Wine.
While it isn't the first meal many people associate with cooking, Wine is undoubtedly one of the most important, especially for adults.
The story follows the life of a man named Shizuku, who was the son of an acclaimed wine critic.
In order to live up to his reputation, the protagonist was trained from a young age to appreciate everything about it, right from its scent to its taste.
However, after reaching his breaking point, he leaves home and ends up working for a beer company.
While he vowed never to touch Wine again, life had other plans for him as he went back following his father's death.
His father's will stated that the person capable of identifying the 12 apostles of wines and the so-called "drops of god" would inherit his fortune.
While the protagonist believes himself to be the only relative of his father, his father had adopted a wine critic right before death.
With what almost seems like a cruel joke, Shizuku is forced to unveil this mystery while the reader experiences the technical world of Wine.
5. Mixed Vegetables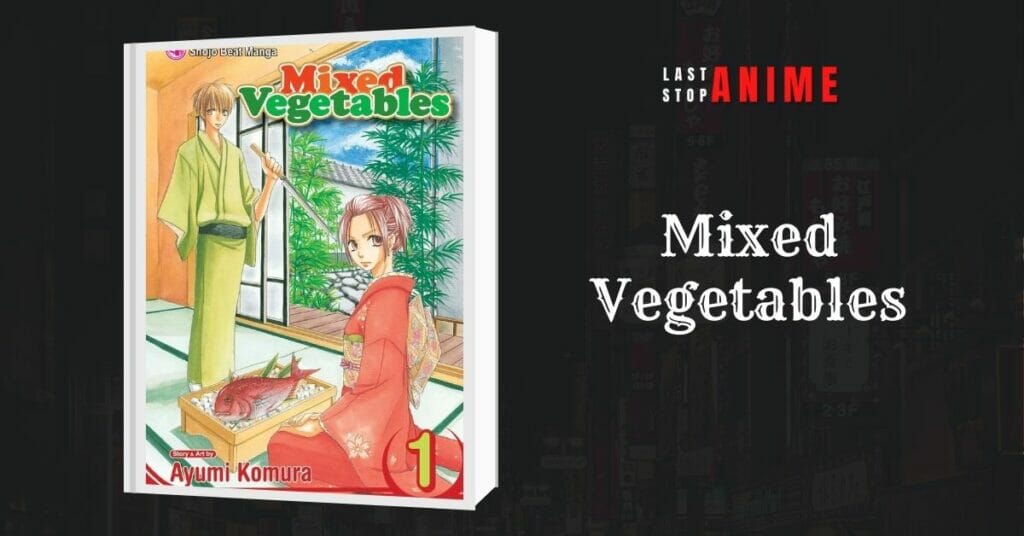 Number of Chapters: 54
Genres: Cooking, Slice of life, Comedy, Romance
MAL Rating: 7.63
Status: Completed
Mixed Vegetables is a series that has very little to do with vegetables itself but rather shows us the beauty of fate and coincidences in life.
The story introduces us to a determined girl named Hanayu who dreams of becoming a sushi chef.
However, being from a family of pastry chefs, she is expected to learn the trade and inherit their business.
While looking for a way to get out of this situation, she runs into a boy named Hayato, who coincidentally is the son of a Sushi chef but dreams of becoming a pastry chef.
As the two of them are dissatisfied with their positions, they decide to try and entice each other so that they can marry and enter into the cooking family of their choice.
Mixed Vegetables is a very satisfying manga with several delicious dishes that act as a compliment to its hilarious and romantic plot.
It covers all the staples of a Shoujo manga while having many hilarious moments as we see the characters trying to get with each other.
4. Sweetness and Lightning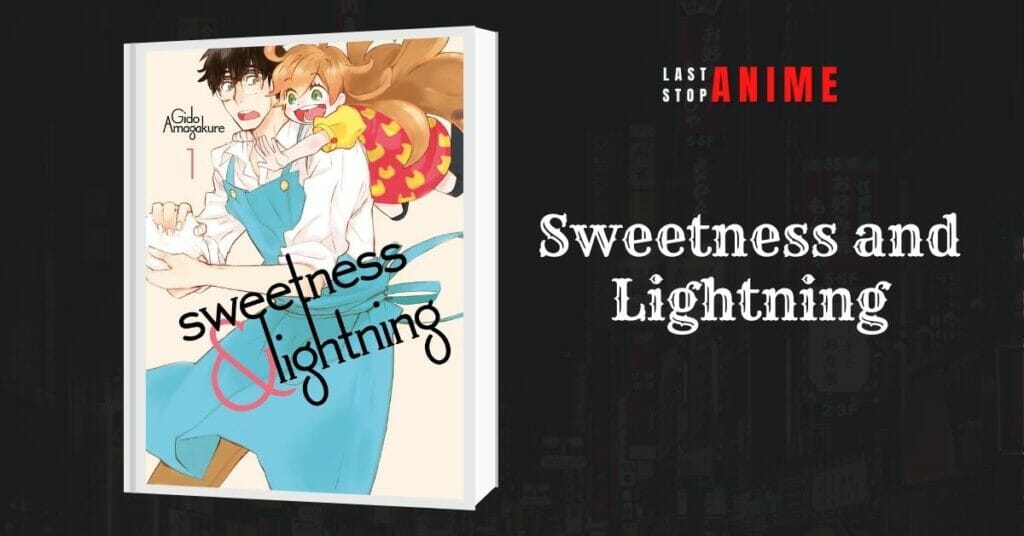 Number of Chapters: 63
Genres: Cooking, Slice of Life, Comedy
MAL Rating: 8.13
Status: Completed
Very few manga series are as wholesome and make you feel as good as Sweetness and Lightning.
It follows the life of a single father who struggles with cooking and providing his daughter with healthy and nutritious meals.
This is much to his disappointment as he wants to provide delicious food to her.
After a coincidental meeting with a young girl who was the father, Kouhei's student, she invites them to eat at her mother's restaurant.
Surprised by the change from their usual food, the young man decides to get better and become a respectable cooking papa to his daughter.
Hearing that the young girl is also very lonely due to her busy parents, he decides that all of them should dine together while combining their skills to prepare meals.
The manga is an amazing journey that will keep making you smile throughout every chapter and is well worth a read.
3. Nobunaga no Chef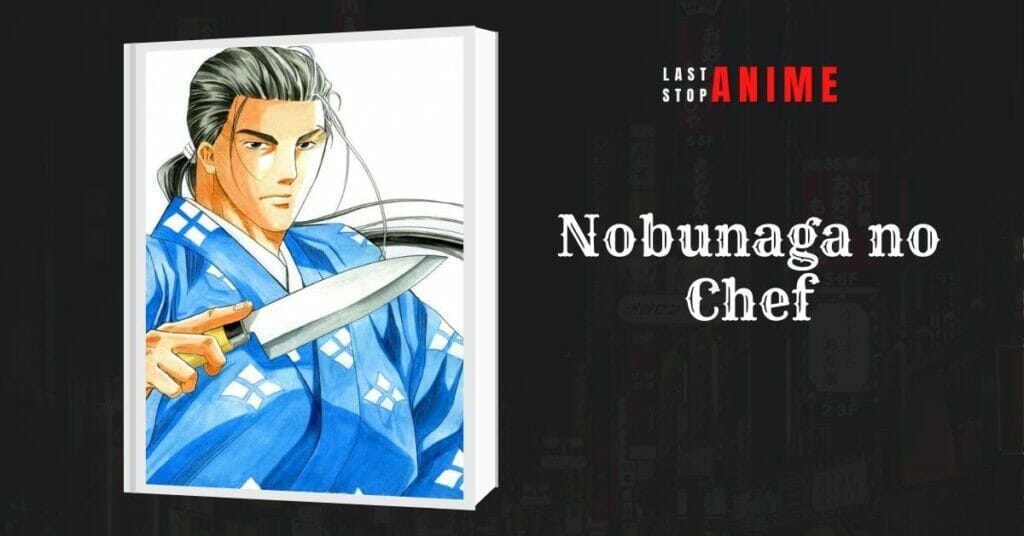 Number of Chapters: 106
Genres: Cooking, Comedy, Historical
MAL Rating: 7.74
Status: Currently Publishing
Nobunaga no Chef is a very unique manga that has a historical setting and creative plot through which it shows us tasty food being cooked.
It follows the life of a man named Ken, who wakes up and finds himself in 16th Century Japan, known as the Warring States period filled with bloodshed and battles.
Along with him, he finds another man in his company.
However, as the two are suspected of being spies, they stay on the run through which the other person gets shot.
As the dying man lies down helplessly, he tells Ken to stay alive and try his best to return to their era.
With renewed effort, Ken manages to escape and live life in his new surroundings.
He realises that he has a lot of knowledge from his previous life, especially cooking and food.
Using this, he begins to earn a good reputation among everyone around.
Being in a dangerous period, however, he earns the interest of a historical figure, Nobunaga, who is very intimidating.
Nobunaga ends up recruiting Ken to be his personal chef, and they travel through the lands while Ken keeps whipping up delicious food for Nobunaga and his comrades.
They form bonds in quick succession while spending quality time in each other's company.
Nobunaga no Chef is a surprisingly sweet manga with very likeable characters and is a must-read for any fans of historical fiction.
2. Delicious in Dungeon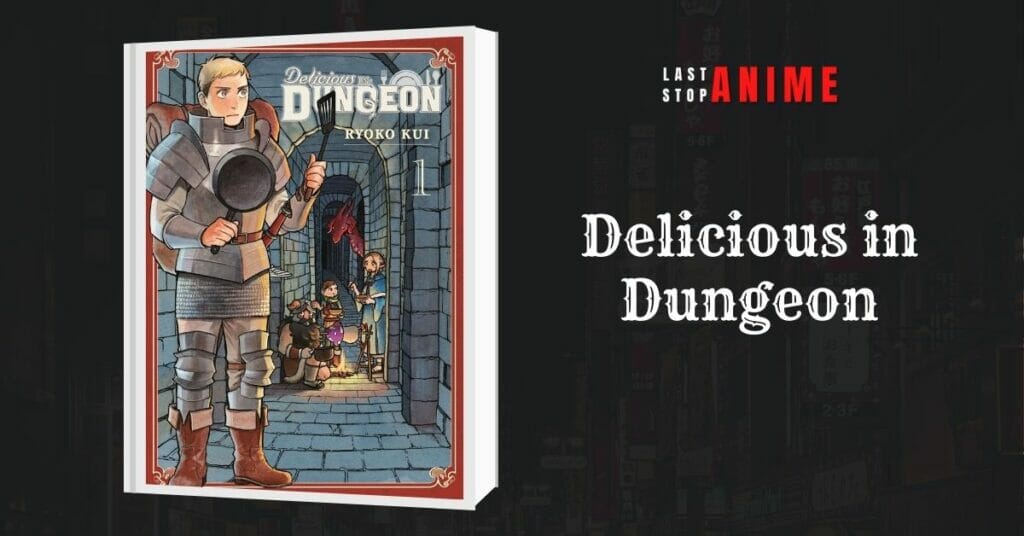 Number of Chapters: 90
Genres: Cooking, Comedy, Adventure, Fantasy
MAL Rating: 8.35
Status: Currently Publishing
Delicious in Dungeon is a manga unlike any other and is set in a very unique world rather than a restaurant like most other cooking manga.
After the golden kingdom is sunk by a powerful magician, its king sets a huge bounty on him in order to get revenge.
This makes several adventure groups form those dangerous traverse dungeons searching for him.
During one of these searches, the main character, a young man named Laios, loses his Sister Falin while facing a dragon.
While determined to save her, he runs into a dwarf who enjoys cooking monsters.
As Laios is doubtful about supplies and resources inside the Dungeon, he makes the dwarf join his group as they go back on an adventure filled with a whole new plethora of unknown dishes this time.
While many might expect an action-filled battle manga from the original premise, Delicious in Dungeon is a fun and enjoyable food adventure backed by its elements of fantasy.
1. Food Wars!: Shokugeki no Souma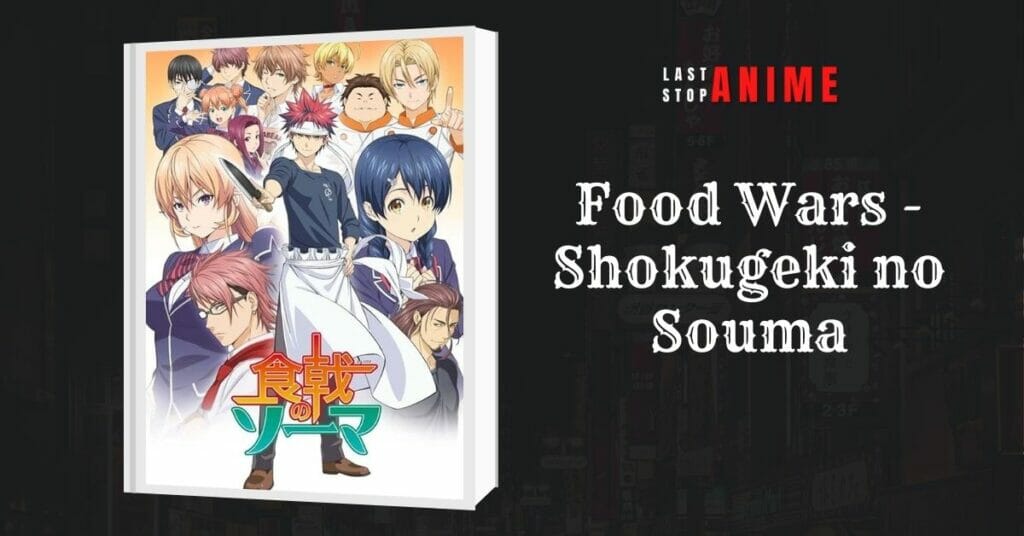 Number of Chapters: 325
Genres: Cooking, Comedy, Drama, Ecchi
MAL Rating: 7.94
Status: Completed
The best and most popular cooking manga that has been made till today is, without a doubt Food Wars!
It revolves around the life of a young boy named Souma Yukihira, who works in his father's restaurant and dreams of surpassing him someday.
However, he is surprised when his father decides to close the restaurant and urges him to join a world-renowned culinary academy to improve his skills.
Following this, we see Souma joining the school of high competition and culinary prodigies all around.
Watching the cooking master boy constantly defy expectations and keep adding to his skills is an extremely entertaining journey that has the reader interested through every chapter.
In addition, the series also has a lot of ecchi scenes which mostly happen to signify a food explosion happening to a character.
This is just adds to the enjoyment and satisfaction of the reader, who is already engrossed through the electrifying competitions and battles.
For any fans who are trying to get into the cooking genre, there is no better starter manga than Food Wars!