Western comic books, namely Marvel and DC, have dominated all entertainment media for decades. Marvel studios reign over cinema, and Marvel cinematic universe continues to be the biggest movie franchise of all time with the best fans.
Marvel, with superheroes like Thor, Iron Man, Doctor Strange, Captain America, Ant-Man, Black Panther, Captain Marvel, etc., provides its viewers with a one-of-a-kind experience.
That brings us to today's topic. Are there any anime for Marvel fans? Is there something similar to Marvel in anime and manga?
The answer is: yes, most definitely. Although there are Marvel anime, that is, anime renditions of the Marvel stories, this list will solely be focused on anime that deliver a similar viewing experience for marvel fans.
These anime are comparable to MCU in that they deal with superpowers, are action-packed, feature team spirit and camaraderie, and contain other identical concepts and themes.
List Of Anime Having Similarity To Marvel Movies & Series
11. Fullmetal Alchemist: Brotherhood
Genres: Shonen/ Action/ Adventure/ Fantasy/ Comedy
Episodes: 64
Where To Watch: Crunchyroll, Funimation, Hulu, Netflix
Fullmetal Alchemist: Brotherhood by the anime studio Bones is the highest-rated anime on MyAnimeList, and for a good reason. Like all Marvel stories, FMAB encompasses various genres, catering to multiple audiences.
The plot is incredibly well-laid out, and it has a very Marvel-like feel to it. Marvel fan or not, whatever genre you like, FMAB is a must-watch anime.
Synopsis: The story begins with our main characters, brothers Edward and Alphonse Elric, performing an extremely high-risk alchemy experiment to revive their mother, which goes wrong.
Edward loses his leg, Alphonse loses his whole body, and Edward sacrifices an arm to contain Alphonse's soul in armor.
Winry, their neighbor, fixes prosthetic limbs for Edward. But to regain what they have lost, they need the philosopher's stone which allows an alchemist to bypass the laws of alchemy.
The two soon leave home to search for the stone, with many unforeseen obstacles ahead.
10. Tiger & Bunny
Genres: Action/ Mystery/ Comedy/ Superpower
Episodes: 25
Where To Watch: Netflix, Hulu, Peacock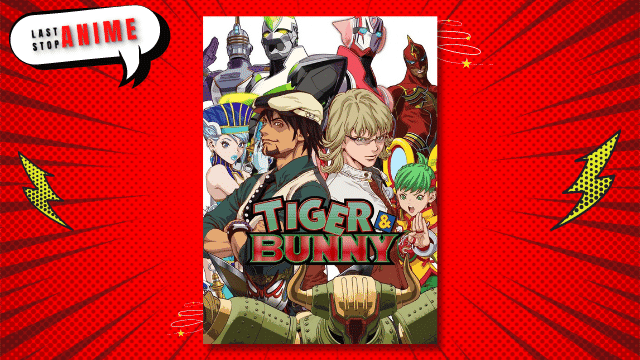 Tiger & Bunny is quite an underrated anime, considering it deals with the popular concept of superheroes. This anime is perfect for Marvel enthusiasts who are open to the idea of commercialized heroes whose ultimate purpose seems to be bringing publicity and money to their sponsors.
Synopsis: In the city of Stern Bild, "NEXT" are people with special powers and abilities.
The Hero TV regularly showcases the heroic activities of a group of NEXT who fight criminals, bring their sponsors' media attention, and earn Hero Points to become the next "King of Heroes."
Wild Tiger is an old-time hero way past his prime, struggling to cooperate with other heroes. When Barnaby (a.k.a. "Bunny"), a rising hero, is paired up with him, he encounters a new problem; the two are like the north and south poles.
However, keeping all their differences aside, they have no choice but to work together for their careers and protect Stern Bild.
9. Hunter x Hunter (2011)
Genres: Shonen/ Action/ Adventure/ Fantasy/ Martial Arts
Episodes: 148
Where To Watch: Crunchyroll, Netflix, Tubitv
Hunter x Hunter is regarded as a certified classic by the anime community. It is unlikely that a Marvel fan is not going to like this anime.
HxH is the package; it has comedy, stunning animation, incredible story-telling, intense action scenes, and lovable characters.
Synopsis: Hunters are highly-skilled people who take on the most difficult missions of journeying through unexplored territories, finding rare valuables, and discovering and fighting monsters.
Before all that, to become a hunter, one must pass the Hunter Examination.
Gon Freecss is a young boy with no grand dreams but a simple desire to find his father, Ging, by becoming a hunter.
He enters the Hunter Examination Test, where he meets three other individuals who join him to build an unstoppable team.
From this point on, they face together all sorts of enemies and impediments while also pursuing their individual goals.
8. Bleach
Genres: SHOUNEN; Action, ADVENTURE, FANTASY
Episodes: 366
Where To Watch: Crunchyroll, Hulu, Netflix
Bleach is one of the "Big Three" shonen anime/manga that will appeal to you if you're a Marvel fan. The show features frequent team-ups that excite you in the same way as when avengers assemble to fight a common enemy.
All the characters have diverse sword-based abilities that make for eye-popping action sequences.
Synopsis: Ichigo Kurosaki is a regular high school student until one day, a hollow, foul spirit that consumes human souls attacks his family.
When a Soul Reaper named Rukia steps in to save them, she gets injured, leading to Ichigo accepting her powers to do the job.
However, this renders Rukia incapable of using her powers. Now Ichigo must take on the role of a Soul Reaper and eliminate hollows around the town in her stead.
This single event changes his life as he is unaware of the battles that await him.
7. Jujutsu Kaisen
Genres: shonen; Action, dark fantasy, horror, school, comedy
Episodes: 25
Where To Watch: Crunchyroll, Netflix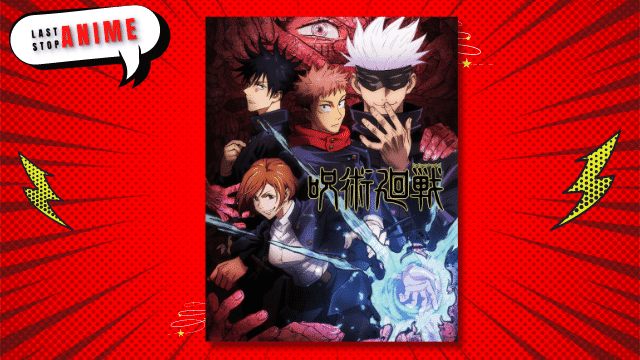 Jujutsu Kaisen, animated by studio MAPPA, is one of the top new generation shonen anime. Everything in this show- the music, the characterization, the story, the artwork, and most importantly, the animation- is flawless.
Its prequel movie was as successful as the series, and a second season is already announced for 2023. The entire show is very Marvel-like, but one character, Gojo Satoru, will remind you of several Marvel superheroes.
Synopsis: Jujutsu sorcerers are individuals who exorcise curses born from the negative emotions in humans.
When Itadori Yuuji, a third-year middle-schooler, obliviously acquires a special-grade cursed item, he gets entangled in a mess that would change his life forever.
The cursed object turns out to be a finger of the King of Curses, Ryomen Sukuna.
To avoid getting executed, he now must join Jujutsu Tech as a student and as the vessel for Sukuna, where he has to team up with two other first years and go on missions as a Jujutsu sorcerer.
6. Kimetsu no Yaiba (Demon Slayer)
Genres: Shonen/ Action/ Dark Fantasy/ Adventure/ Comedy
Episodes: 26
Where To Watch: Crunchyroll, Hulu, Netflix
Kimetsu no Yaiba, by the anime studio Ufotable, has been breaking records non-stop since its release in 2019.
In 2020, the Demon Slayer: Mugen Train movie took the entire cinema world by storm. Despite the covid pandemic, the film was a massive success.
It became the highest-grossing movie of 2020 with a profit of $504 million worldwide, and it is also the highest-grossing Japanese movie of all time.
Putting aside its highly engaging plot, hair-raising soundtracks, and stellar artwork, the show is best known for its animation quality which fits straight for any marvel fan.
It has set very high standards for contemporary anime and the second season heightened them even further.
Synopsis: Tanjiro is a young boy who lives in the mountains with his mother and younger siblings. One day when he is late from work, he stays the night elsewhere.
On returning home the following morning, he beholds the most horrifying sight one can imagine.
To add to the misery, Tanjiro's younger sister Nezuko has turned into a man-eating demon. Tanjiro immediately leaves home with Nezuko on his back, embarking on a tumultuous journey to turn her back into a human.
5. Attack on Titan
Genres: Shonen/ Action/ Dark fantasy/ Gore/ Thriller/ Drama/ Military
Episodes: 25
Where To Watch: Crunchyroll, Hulu
Attack on Titan – a name that all anime fans (and a lot of non-anime fans) are familiar with, is a must-watch for everyone.
Though Marvel fans, specifically, are bound to like this show because of the hype moments, the high stakes, the characters, their abilities, and the convoluted plotline.
The number of "what just happened?" moments is as frequent as in Marvel movies, where you are stunned one minute and flying off your chair the next.
Attack on Titan has a total of four seasons. The first three seasons are done by WIT studio, after which studio MAPPA took charge of the final one.
AOT is one of the best-animated series with top-notch soundtracks and visually pleasing, realistic visuals, and it is undoubtedly a unique watching experience.
The show gets dark right from the start in almost every aspect possible, so if that's something you enjoy, you're in for a wild ride with a rollercoaster of emotions.
Synopsis: Humanity lives confined within three concentric walls to fend off giant humanoid creatures called "titans" that devour humans.
These towering 50-meter-tall walls have protected humanity for over 100 years. That is, until one day, the Colossal Titan appears out of nowhere and destroys the outer wall along with the city of Shiganshina.
Now, Eren, our main protagonist, is a resident of Shiganshina. As the titans ravage his hometown, Eren is forced to realize the cruelty of this world when he experiences a highly traumatic incident that leaves him scarred forever.
Fueled with despair, sadness, rage, and revenge, he vows to wipe every single Titan out of existence.
4. Naruto
Genres: Shonen/ Action/Adventure/ Fantasy/ Martial arts
Episodes: 220
Where To Watch: Crunchyroll, Hulu, Netflix
Naruto, one of the "Big Three" anime, is another name that needs no introduction. It is an anime many fans started with and is still a newcomer's favorite.
It is perfect for MCU fans who want to go on a long journey with an anime series.
Naruto has many things in common with MCU- an intricate overarching plot with numerous interwoven plotlines, a large cast with intriguing powers and abilities, great villains (arguably the best in all of the anime), next-level fight choreographies, and countless jaw-dropping moments.
The original series sets up the story that gets unraveled masterfully in Naruto Shippuden (500 episodes). It is a must to watch Shippuden after you watch the original.
Synopsis: When the Nine-tailed fox attacked the Ninja village of Konohagakure twelve years ago, the then village leader (the Fourth Hokage) went up against it and died protecting the village.
With no other means to defeat it, he had sealed the fox spirit in the newly born Naruto.
Presently, Naruto Uzumaki is a playful young boy full of energy. Though he is feared and shunned by the village adults for harboring the demon spirit inside of him, he is headstrong and dead-set on achieving his dream.
He is determined to become the Hokage of the village someday and get everyone to acknowledge him and his abilities.
3. One-Punch Man
Genres: Seinen/ Action/ Comedy/ Superpower/ Parody
Episodes: 12
Where To Watch: Crunchyroll, Hulu, Netflix, Funimation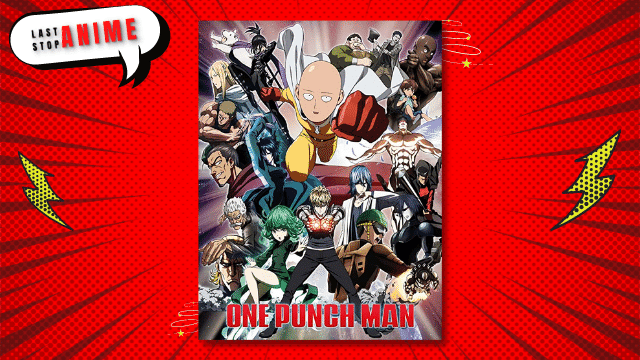 One-Punch Man is another insanely popular anime that blew the internet when it first came out in 2015. It has two seasons, with the third season already announced and under production.
It would be a crime not to mention the bar-raising animation by Studio Madhouse that was one of the main reasons for the series' success.
One-Punch man is unique in that it has the perfect combination of action and parodical comedy of superheroes.
So what's in it for MCU fans? First, this show is definitely for you if you are into superhero parodies. Secondly, being a parody, you'd expect it to be comedic in every aspect, but many fight sequences are anything but comedic.
From the close combat to the massive-scale attacks, all of it is so well-executed that you cannot tear your eyes off the screen for even a second.
Third, there are a bunch of heroes and villains with diverse powers and abilities that will keep you highly entertained.
Synopsis: Saitama is a 25-year-old man who has gone bald due to an intense training regime of three years. His training has made him so powerful he can knock out his opponent with a single punch.
It sounds cool to us, but to Saitama, it means endless days of boredom with no thrill in fighting since no one can go up against him.
One day a cyborg named Genos comes to Saitama, requesting him to take him as his disciple, which the latter hesitatingly accepts. Soon Genos proposes that the two join the Hero Association so they can register and recognize as official heroes.
Saitama goes along with this plan, hoping to meet an opponent that can maybe bring him the battle bliss he's been searching for all this time.
2. My Hero Academia
Genres: Shonen/ Action/ School/ Comedy/ Superpower
Episodes: 13
Where To Watch: Crunchyroll, Funimation, Hulu, Netflix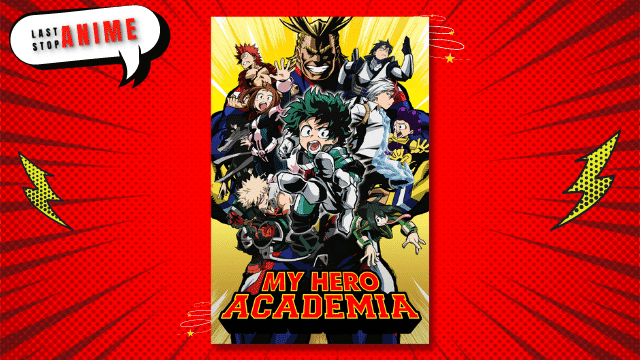 My Hero Academia has held the banner of the new generation shonen since its release in 2016. It has five seasons animated by Studio Bones, with a confirmed sixth season.
MHA resembles the Marvel universe in many ways. The concept of superpowers is similar to the mutations in X-Men.
The writer (Horikoshi Kohei) is a massive fan of the Marvel comics, and you can see it in the likeness of some of the character designs to Marvel characters (for example, All Might and the comic version of Thor).
MHA has a very western feel to it which is also one of the reasons it is so popular among western fans of anime and manga.
Synopsis: In MHA, each individual (80% of the population) possesses an extraordinary power called a "quirk."
Some people put their quirk abilities to good use, while some use them in criminal ways, making way for a clear distinction between heroes and villains.
The story revolves around our main character, Izuku Midoriya, a third-year middle school boy dreaming of becoming a pro hero someday.
To chase his dream, he determines to get into the prestigious U.A. High School, Japan's top hero academy that nurtures young heroes.
Here is the catch: Izuku was born quirkless, and needless to say, one cannot become a pro hero without having any power whatsoever.
1. Dragon Ball
Genres: Shonen/Action/ Adventure/ Comedy/ Superpower/ Martial Arts
Episodes: 153
Where To Watch: Crunchyroll, Hulu, Funimation
Anybody in touch with any entertainment media has to have heard of the Dragon Balls series.
It has dominated the anime world for decades and has -long stepped out into the world of mainstream media. Dragon Ball has loads of similarities to the Marvel universe.
Some characters will remind you of Marvel superheroes like the Hulk, Captain America, Captain Marvel, Thor, Black Panther, etc., not necessarily in terms of character design but characterization and development.
It has an interplanetary setting, and the fights are the highlight, just like in a Marvel movie, with unbelievable hype and excitement.
The cast is enormous, with very likable good guys (and team-ups like the avengers) and memorable villains.
The original Dragon Ball is just the start of the grand journey that Dragon Ball is. Make sure to watch the whole series in this order:
Dragon Ball
Dragon Ball Z / Dragon Ball Kai (Without fillers, condensed and refined version of Z)
Dragon Ball Super
Synopsis: The plot revolves around our protagonist, Son Goku, a young boy who lives his life alone in the woods. One day he runs into a girl named Bulma who is looking for seven mythical orbs called "dragon balls" capable of granting any wish to the wielder.
Coincidentally, Goku has one of these balls in possession. In exchange for letting Bulma use its power, Goku decides to team up with her on her journey forward.
Along the way, they realize that many would go to drastic lengths to acquire the power of the dragon balls.
To protect the people around him, Goku trains and trains day and night to get stronger and go up against all opponents that come in the way of his goals.
 Anime Renditions of the Marvel Comics:
Marvel Future Avengers
Marvel Disk Wars: The Avengers
Blade
Wolverine
Iron Man
X-Men